Part 3 – Paintwork, Engine & Completion
Restoration of NUE 854 -Paintwork, Engine and Completion
By Chris Dixon
I was asked by Bill Rawles Classic Cars if I could put a few words together about my car. I purchased the first right hand drive Austin Healey 100 BN1, NUE 854, built Feb-Mar 1953 at the Healey Warwick Works. In 2014, the car was for sale. At this time, I was in the fortunate position to look at the car and its history and decided to become its next proud owner/custodian. Not long after the purchase, the 'scruffiness' got to me. I was certain it needed to be carefully and sympathetically restored.
Part 3 of my blog post has reached the final stage of the restoration story. The moment that corner was turned, we were on the home straight and could see light at the end of the tunnel………..
Charlie Rawles took the whole chassis and body restoration under his wing with Bill Rawles keeping a careful eye on the progress. It was Bill who personally restored the original engine (castellated main bearing nuts included!). New liners, pistons, steel crank, camshaft, rear bearing oil seal conversion etc. were all installed. All the original parts carefully packed and stored safely.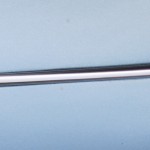 Towards the end of the work the decision on paint colours (body and engine) was looming. I knew the paint choice would be critical. All the Warwick 100 BN1 cars were originally finished in 'Healey Ice Blue Metallic'. The problem is that there is really no equivalent today. No original paint remained on NUE 854 (it was a nice British Racing Green when I acquired it). One of the cars restored by Blair Harber in Canada in the early 2000's did have some original paint and Blair was kind enough to let me have the specification for matching paint he had made for his restoration. This is a light blue/grey with very small metallic flakes. After all the research I had carried out, the paint we had mixed was just the right colour for the body and chassis.
The engine colour was a similar challenge. It was known that these early car's engines were painted a 'light blue' (not the later Steel Dust Grey'). Some said a 'light duck egg blue' others something 'bluer'. I just could not decide so asked Bill and Charlie to make the choice. They came up with a light (duck egg) blue which is very similar to that chosen by the earlier UK restorer of a Warwick 100 -Steve Norton at Cape International.
The car was painted at Pritchard's in Alton. The paint shop which Bill Rawles Classic Cars uses for all its paintwork. I am very happy with the beautiful result. I can very proudly say that my car is definitely 'scruffy' no longer!. As is usual in such a restoration, every sub assembly and component down to every nut and bolt was restored where possible and renewed if not.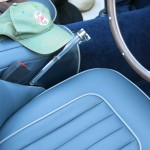 The car was delivered back to my home garage at the end of August 2015. Nic and I spent about 2 months finishing it off, mainly work on the trim and instruments etc. Unfortunately by the time we finalised the car the dark days of November were upon us. November is not an ideal month to be test driving a newly restored Healey. Even so, we drove the car for about 500 miles to give it a good shakedown. It needed a door rattle fixing, re-tuning at Bill Rawles Classic Cars and attention to the rear fuel line. All in all I was very pleased that was all that was required.
Finally we asked Steve Norton of Cape International (who restored Warwick 100 number AHX11 in 2008) to look over the restored NUE 854 (AHX16). It was in his words "Just beautiful". What more can I ask.
Where Next?
The car will be driven and possibly entered into some historic events. It is kept just 10 miles from Goodwood and so will undoubtedly be shown at the The Goodwood Breakfast Club meetings and hopefully the Goodwood Revival. Having started my interest while at the 2012 Mille Miglia, maybe I will enter it again with NUE 854. I am keeping my fingers crossed. It is 'eligible' but so are a few thousand others!
Bill Rawles and his team will be my first port of call for preparation or (God forbid) repairs. I truly enjoyed being accepted as part of the workforce at Bill Rawles Classic Cars. It was a great experience I will not forget.
Thank you
Chris Dixon
Rowlands Castle, Hampshire
To read parts 1 & 2
Part 1 – A Story of Restoration
Part 2 – The Restoration Continues
Thank You from Bill Rawles Classic Cars
Just a quick word from Bill, Charlie and all the team at Bill Rawles Classic Cars. Thank you to Chris for giving us the opportunity to be part of the cars history and to be a part of its restoration story. Charlie loved working with you and Nic. It was lovely having you as part of our workshop. You fitted in brilliantly and amongst all the hard work, there was a lot of laughter, fun and teasing. It was good to get to know you. It was a mad, hectic summer but a very enjoyable one. We know that you know that you are welcome to pop by anytime or call to ask a question. You also know it is true that the workshop is nearly always stocked with tea, cake, snacks, sweets and treats. We are always ready for a visitor or two – no excuses needed to put the kettle on. Thank you for writing these blogs and sharing your story with us. See you soon