Healing Powers
For Sale – The story of a cherished car
We currently have for sale at Bill Rawles Classic Cars Ltd (January 2017) this beautiful 1956 Austin Healey BN2 100 M Spec. It has remained in the same family's ownership for over 45 years but the time has come for somebody else to be the new custodian. It's hard to accentuate in words just how stunning this Healey is and we would recommend a viewing if you are in the market for this kind of classic.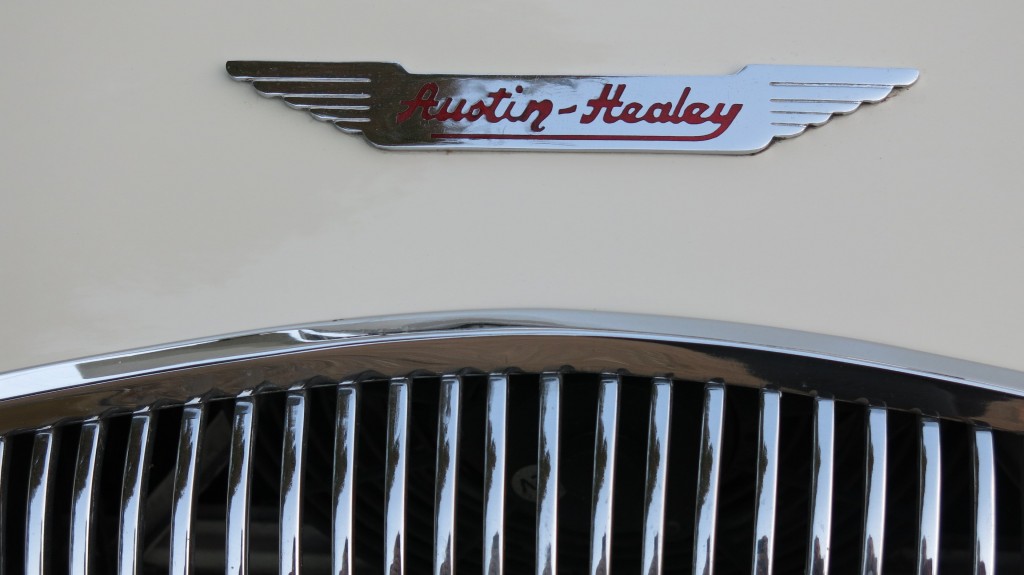 The car has four large box files absolutely brimming with information and charting, in great detail, the history of the car. One could almost say that such concise documentation is almost verging on fanatical, in a positive way. It is certainly an impressive compilation of paperwork. Such filing and organisational skills are hard to come by and can only be admired.
Healing Powers as featured in December 1999 Classic Sports Car Magazine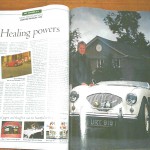 Amongst all the paperwork we found this article 'Healing Power', which featured in the December 1999 issue of Classic and Sports Car Magazine (page 132) – Here is what the article by Alistair Clements had to say about URT 919:-
"I don't feel middle-aged, but here I am talking about a 45 year old car, which I've owned for 30 years – I really don't know where the time has gone" reflects David Malden-Browne (Dec1999). His glorious 1956 Healey 100 may look pampered, but it has just returned from a 2500 mile European tour. David's interest in cars came from his father, who owned a succession of interesting motors, including a rare Lamas-Graham: "My first car was a 1950s Reliant with an Austin Seven engine. My pals and I used to go up to a pub at the top of a very steep hill and we had to open the doors and scoot it with our feet"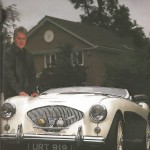 Interior designer David found the Healey when he was working in an architects' office in the City: "I used to sit and doodle the sports car of my dreams – like youngsters I lusted after Jags and Astons, but knew I could never afford one. Even the Healey 3000 was out because I was frightened by the horrendous cost of fuel, which was three and six – about 17 1/2 pence – per gallon! I didn't know much about the Healey 100; it was purely by chance that I saw an ad in the local paper. The chap told us he also had an E Type and when he pulled back the cover I thought it was the Jag. It was too beautiful to be £200.00"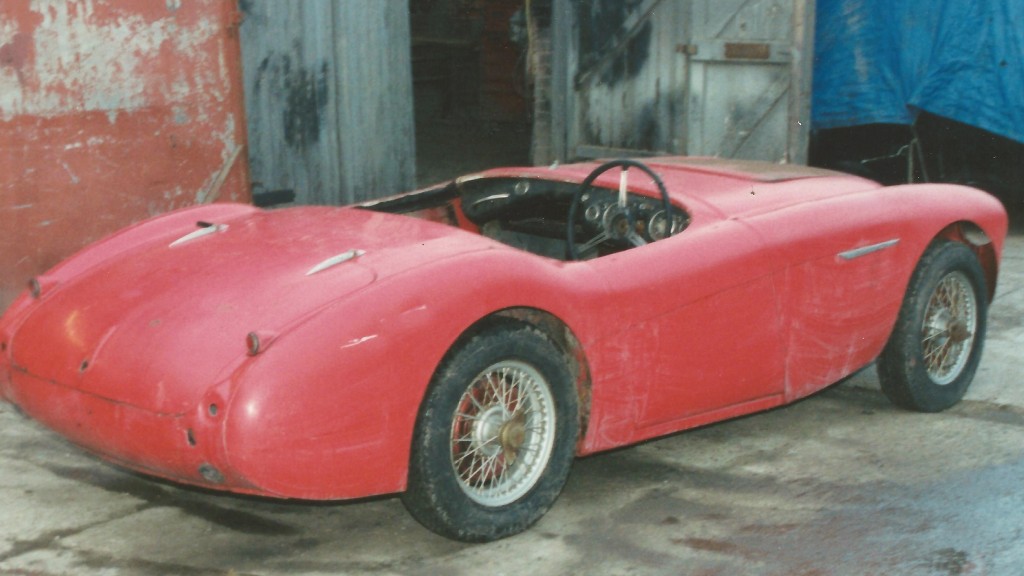 David started to Restore the car in the late 1970s, but progress was halted due to insufficient funds. After 12 years' residence in his back garden, restoration began in 1989, during which it was returned to its original colour scheme. "I have my dear wife Sandy to thank for making a present of having it rebuilt" He also took the opportunity for some modifications, fitting mostly Denis Welch parts.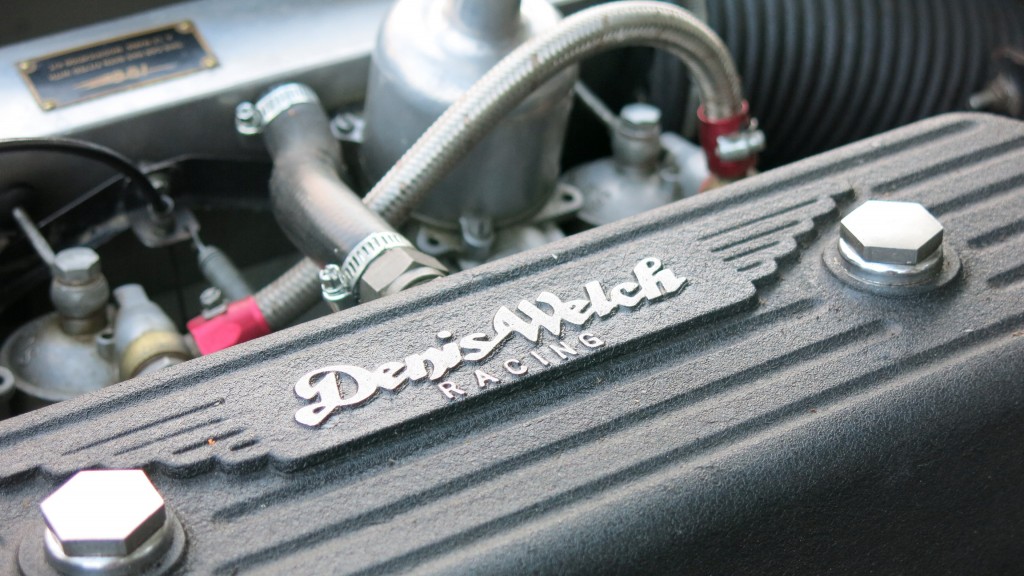 The engine sports a high-lift cam and smart crinkle finish rocker cover, while the racing exhaust emits a sporting bark. The car wears original 100M carburettors, bought from Peter Healey, and a recently fitted 3.54:1 differential endows it with incredibly long legs: "It's now geared for a potential 130 mph but I wouldn't like to pick up the engine bits afterwards!" With its wider rubber and beefed-up suspension, the only item left on the list is a pair of front discs. (1999)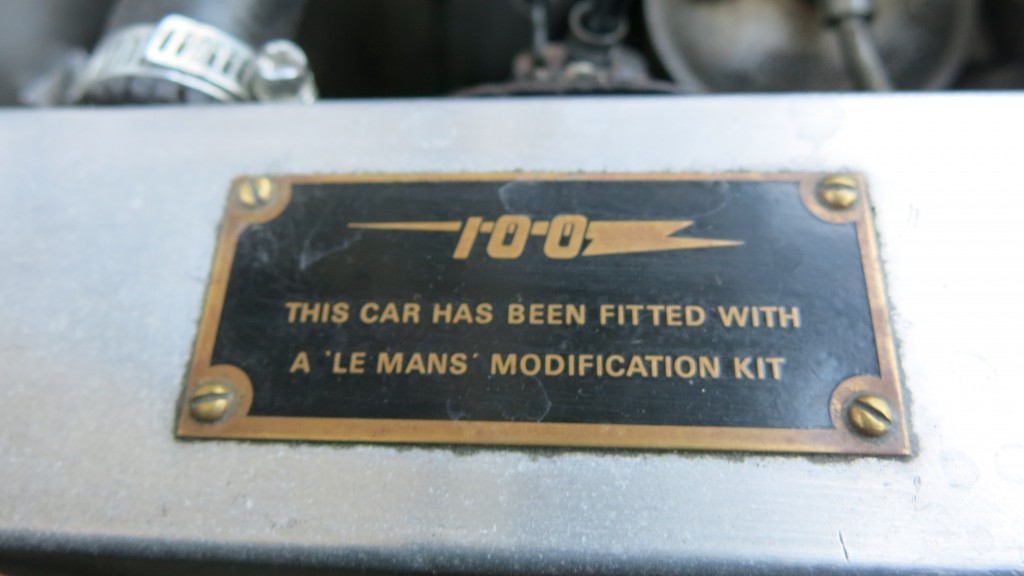 After the rebuild, he and Sandy took the Healey with them on holiday. "It broke down every single day, so we saw France from the back of a tow truck. The advantage was that I had RAC Euro Cover, and when the car is being repaired, they pay for your hotel bill, so we virtually had a free holiday courtesy of RAC!" In August (1999), David and his son completed a three week tour of Europe, taking part in the first Euro-Healey meet in Luxembourg – organised by the Dutch Healey Club – recreating a trip taken with a friend in the summer of 1970, when they drove non-stop for two days to Rome. At the time, an Italian friend was seeing the then Miss Rome, so David was often to be seen with her and a friend perched on the back of his Healey, driving around the streets of Roman streets: "The Police got to know us and used to shout 'Mad Inglesi'. We got away with murder because they loved the car even then!"
David and Sam drove over the mountains through Geneva, then over the Alps into Italy: "We never got to Rome this time but we went to Milan. It was spectacular going over the Alps – the roads were fantastic". The Euro-Healey event included a trip to the Nurburgring and a run on the Nordschliefe, with participants also joining the Liege-Rome-Liege rally for a day, taking a blast around the Spa Francorchamps circuit into the bargain.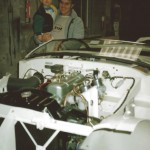 Sam's favourite memory of the Healey is an impromptu drag race against a Honda Fireblade super bike, undertaken on the way back to the campsite after Le Mans two years ago. David says: "It was snaking up the road and he only went past us 20 yards before the end of the track – it really dented his ego."
David uses his 100 as much as possible: "Within the last few weeks it has only done the Tesco run, but it is equally at home with going around the Nurburgring. It has an uncanny way of putting a grin on your face. Although it may not be the fastest car on the road, it does more 'smiles per hour' than any other car I've driven." The Healey has a similar effect on spectators: "From kids to elderly ladies, every single person seems to remark – and it's always a nice reaction."
Other classics have come and gone, but David will always keep the Healey: "I shall never sell it, mainly because it's not really mine anymore. My 13 year old son knows it's his, he's fiercely loyal to it and I know it will be in safe hands with him. But I hope he takes me out to the pub when I'm a bit older and greyer!"
How time flies
The above article was by Alistair Clements – December 1999 Classic and Sports Car Magazine. This article was written over 17 years ago.
Before……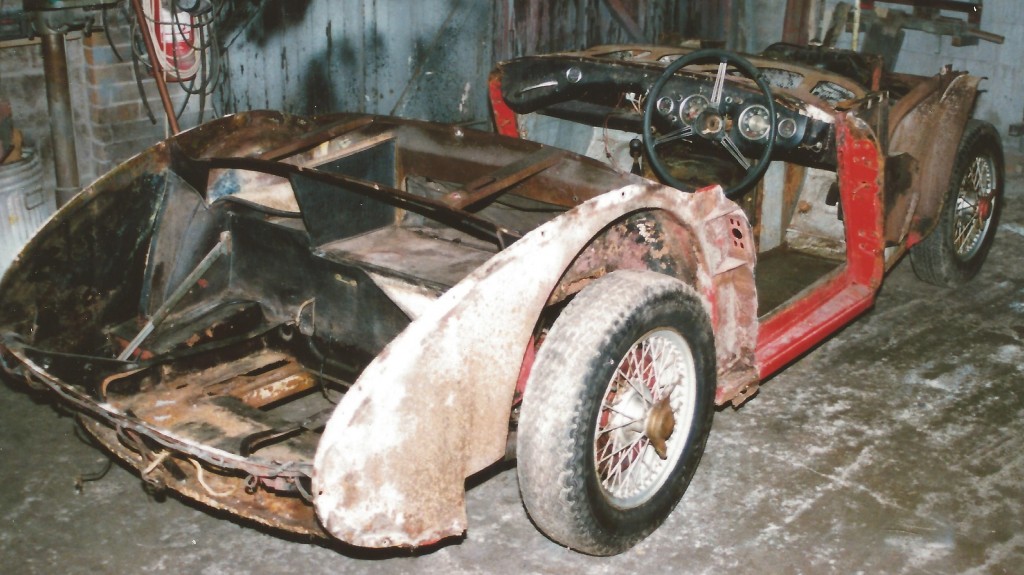 And after….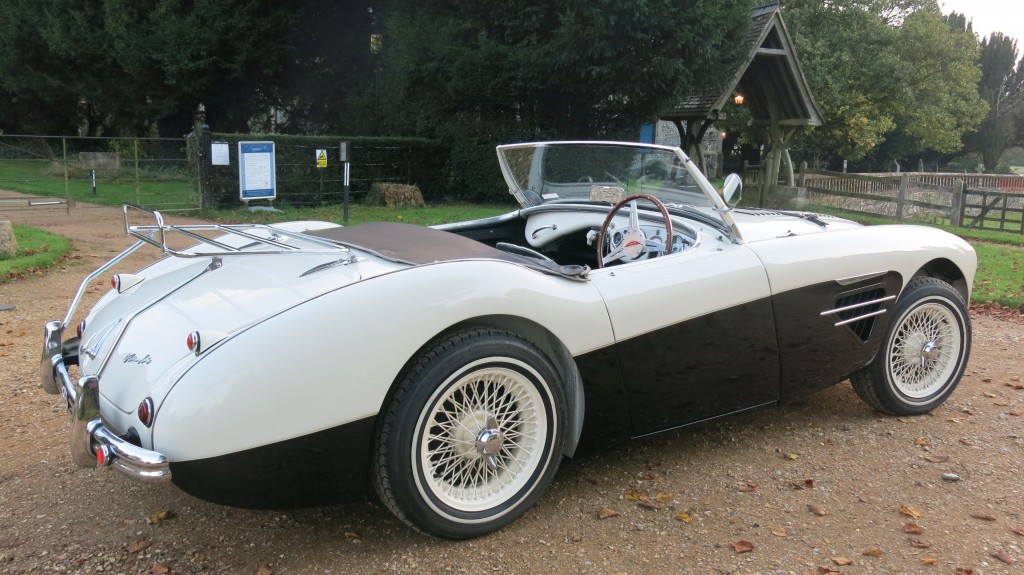 We are very sad to report that David Malden-Browne passed away last year (2016) and his son, Sam, is now 30 years old and lives in Australia. David loved his car; it was his joy, his pride and his passion. He obviously created some great memories and some treasured stories with his wife Sandy, his son Sam and all his other close classic car enthusiast friends. We often saw David at pub meets, Healey dinners, classic car shows and race events and sometimes at our organised gathering too. The family have made the decision that they would like to sell the car and for its adventures to carry on with a new owner. It is a beautiful car and it deserves to have some more good times and challenges……who will be the next owner to add to URT 919's history and the four existing box files of photos, newspaper clips, letters, drawings, invoices and memorabilia….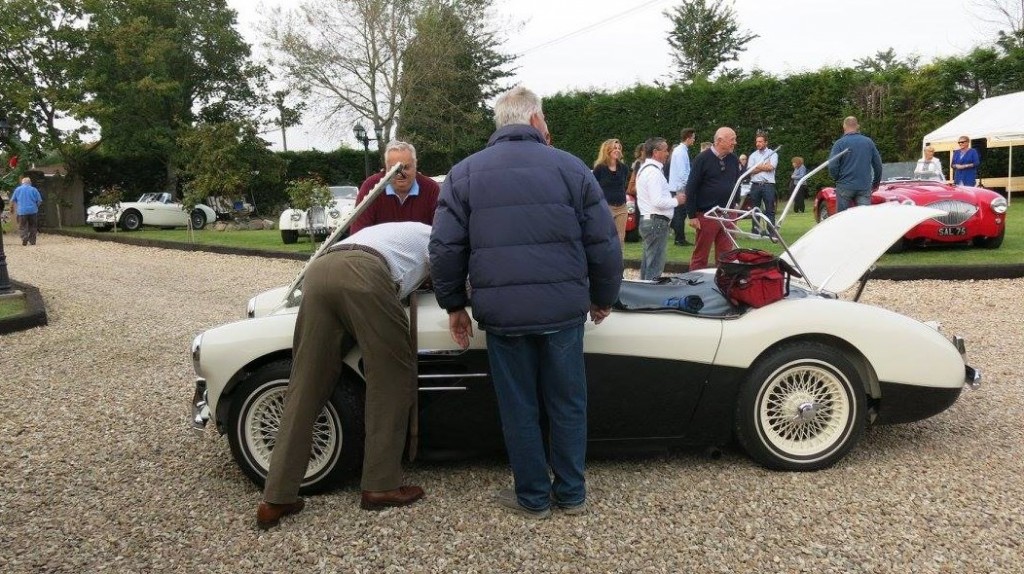 The last time we caught up with David and his Healey was at a BBQ after the 2015 Castle Combe Autumn Classic Event
January 2017 – For Sale at Bill Rawles Classic Cars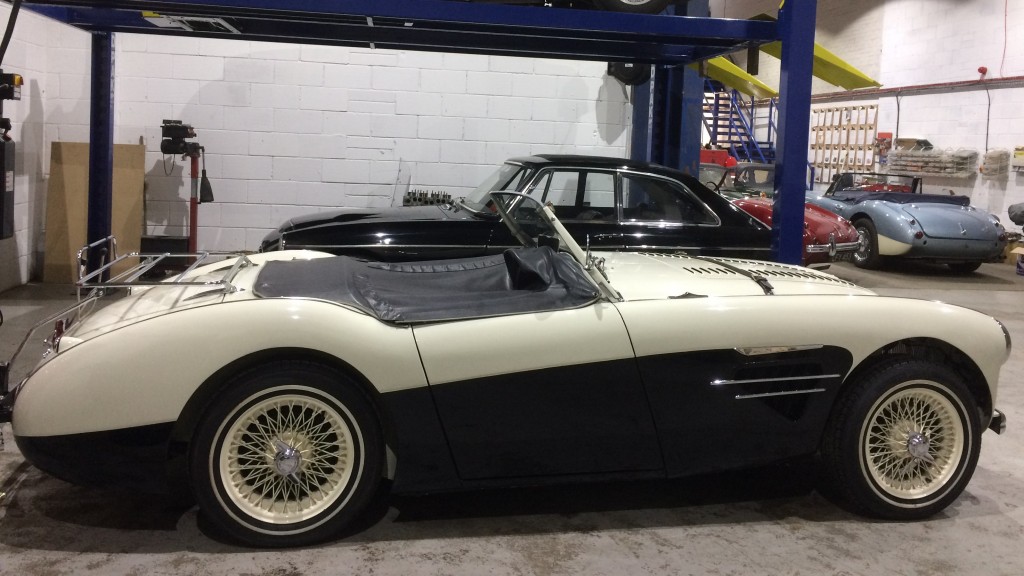 Austin Healey 100 BN2 models do not currently come on the market that often. URT 919 is currently in our car sales area within our workshop – if you would like to arrange a viewing or a test drive or just have an informal chat about the car please contact Bill Rawles:-
Email – info@rawlesclassiccars.co.uk
Mobile – 07763 362470
Workshop – 01420 564343