My First Weekend of Healey Racing
My First Weekend of Healey Racing at the 2015 Autumn Classic HDI 25th Anniversary Invitation Challenge Race
By Jack Rawles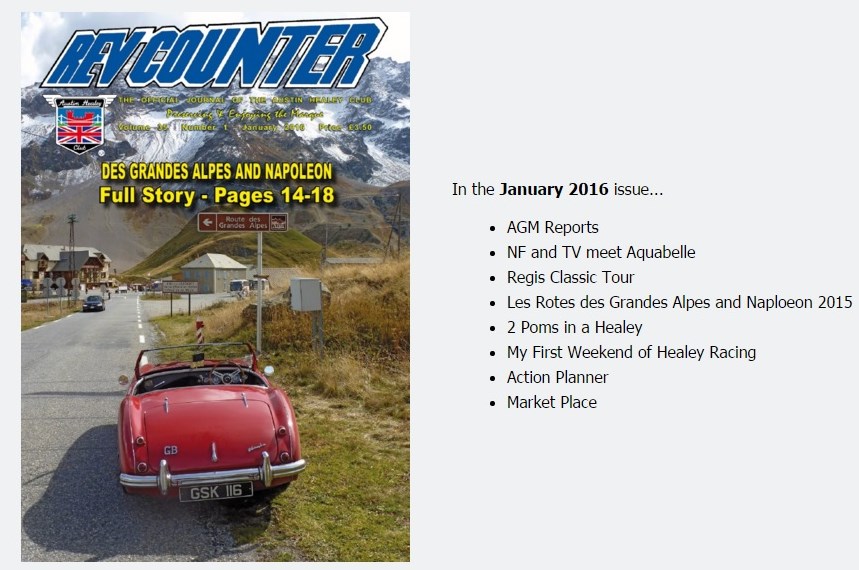 The RevCounter is the Club's monthly magazine that comes FREE with membership. The Austin Healey Club says "The RevCounter is packed with news of forthcoming events, reports on what's been happening in the Austin Healey world, marque history, technical tips and classifieds, it is indispensable for all keen Healey enthusiasts in the UK, and a great read for Austin Healey-philes worlwide". So here is what I wrote for the January 2016 issue of the magazine…………
Having grown up seeing Austin Healeys every day I naturally have a passion for this marque of car. I also grew up watching my Dad (Bill Rawles) race his Austin Healey 3000 MKIIA.
As soon as I could walk I was in and out of cars, sitting at the steering wheel and making car noises. In fact my first word was car. My older brothers use to despair of me at race meetings. I would disappear, completely oblivious that anyone would be worried. The paddock became my creche. All the Healey drivers embraced me, took me under their wing and actively encouraged me to be a part of their race weekend. In my miniature red race overalls, I would be called upon to get those last bits of gravel out from awkward places when an over exuberant race car had had one of those'beach' moments. I became known as the race mascot for the Austin Healey Championship. I would sit at school thinking about a race weekend and I couldn't wait for the next one. I loved the cars, racing and the people. I also enjoyed long evenings sitting in the pub, listening to all the grown-ups relaying their stories. On reflection a lot of the conversations were probably inappropriate and exaggerated but I respected and idolised the Healey drivers. I wanted to be part of their gang but  I was only 6 years old……
I got bigger, my overalls got bigger and my dreams got bigger and more expensive. At 12 years old I tried my hand at a bit of karting, encouraged and aided by Marc Campfield but when I saw on television the Junior Ginetta Championship (14 to 17 year olds all racing identical 1.8L racing cars, I set my sights on achieving a place on that grid. My Mum said " How ridiculous, what parent in their right mind lets a child race one of those cars". Well I made it happen, I did the groundwork, I made the contacts, I secured some sponsorship and that ridiculous parent that allowed me to do it was my Dad. Thanks Dad………….
After competing for two years in the Junior Ginettas I had 40 races and 10 UK tracks under my belt and I had learnt a huge amount about motorsport and racecraft. Having turned 17 I was too old to compete in another year of the Junior Ginetta Championship, so during 2015 I raced a few times in an FIA MGB and an Ariel Atom.
Then I had a light bulb moment, why didn't we fix Dad's Healey and get that back on track? We could have some fun, spend some time together and I could realise that childhood dream of one day racing a Healey. Not only race my Dads Healey but also race against those men I once aspired to be.
So Dad and I got to work and we built a new race engine, we fitted new brakes, discs, callipers, new race harness, seat and steering wheel (using a special boss that I designed as part of my course at college to covert a Moto-Lita boss to fit modern racing wheels).  We were now race read. We made a late entry to The 2015 Autumn Classic event at Castle Combe. We had a test day, firstly at Brands Hatch and then a Castle Combe. It was then that Dad found out I was looking a bit faster than him. After two years of him telling me how to drive I was enjoying repeating some Dad lines back to him – "you just need to keep your foot in", "be more aggressive", "are you heel and toeing?", "wait until you race the Healey, that will teach you to drive" – Just to name a few.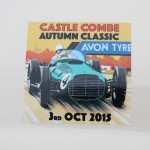 Saturday 03rd October could not come quick enough. I felt excited and apprehensive. I felt a little bit of pressure because I was now in at the deep end. I was out with the experienced Healey drivers and I knew that they were not going to make any exceptions for my age or my first time out in a Healey. The Healey drivers are notorious for their competiveness. Entering the weekend Dad and I had agreed a top 10 finish would be nice and a top 6 would be fantastic. Now I just wanted to race and I wanted to do my best.
It was time to qualify for the race. The weather was dry and clear. The race entry had a healthy grid of 26 cars. This included a mixture of 100/4's, 100s' and 3000's including some very fast cars and drivers such as David Grace, Jaap Sinke, Marc Campfield, Dave Smithies, Chris Clarkson and not forgetting Mike Thorne in that ballistic 100/4, plus the Chatham brothers at their home circuit.
I went out to qualify first and started to put in fast times straight away. I felt strong and the car felt really good too. The newly built engine and the set up felt good. There was a lot of traffic to get through and getting a clear lap was difficult on the short 1.85 mile long circuit. I managed to get one clean lap and then I was signalled to come into the pits for a driver change. It was now Dads turn to see what he could do. At the point I made the driver change I had just set the fastest lap of 1:20.531 had to be beaten to knock me off the top step.
Everyone was getting quicker, there were experienced drivers from Holland, Sweden and the UK. All of them trying to beat my time. On the last lap of qualifying, car number 17 of David Grace, also running a Bill Rawles Classic Cars built engine, put in a great time of 1:20.553. The times were were verified and race control issued the results for race one grid positions. I had put our 1962 Austin Healey 3000 MK IIA, Number 46 car, white with blue stripes, into pole position in my first ever Healey race!
Dad, Charlie and I had discussed our tactics for the day and I had gone and blown them out the window. The qualifying session gives you your starting grid position for race 1 and the result from race 1 gives you your grid position for race 2. Pre-race day we had decided that Dad would go first, do his best and because I was looking slightly quicker, I would go second and try and make up some places. These plans changed now we were sitting in pole position. Dad said "I think you had better do race 1, you put it in pole position, you are obviously quicker than me and you have got a good chance of a good result"
I embraced the decision. I was now about to do my first ever Healey race, from pole position, in the car that had always inspired, innovated and motivated ne to race. The flag dropped and the cars were off……….
Smoke poured off the rear wheels as the car screamed away. I was leading off the line and up towards the first corner but I was swamped as David Grace, 5 times Hill Climb Champion, pulled alongside me and then took the lead into the braking zone. Heading into the first chicane, the green Chatham Healey, driven by Jack Chatham, made a move to overtake me. I dropped to 3rd place but Chatham tried a little too hard. Jack Chatham dropped a wheel onto the grass and spun, immediately promoting me back up to second place.
I had had a good start. I knew I had to regroup my thoughts, keep a calm head and get on with chasing David Grace, who had created a gap in the first lap calamities. I now had first place back in my sights. I pushed on.
I could see Mark Campfield in my mirrors; he was all over the back of my car. I felt the pressure and I knew I could not afford to drop off or make a silly move for first place and risk losing it all. I settled into race rhythm and pulled away from third place, Mark Campfield. I was crossing the start finish line just 0.468 seconds behind the first place car of David Grace. On lap 10 of 15 I braked later than David Grace and made a move up into Quarry. Quarry is a corner famous for its tricky approach and I slipped down the inside to momentarily take the lead from david Grace.
I pushed wide, David managed a switch back and I was back into second place. With only 5 more laps to go I sat behind David Grace, putting the pressure on and trying to force a mistake but the experienced driver kept his cool. The chequered flag went down on David Grace and I crossed the line a close second. This was a great 1st and 2nd place for Bill Rawles Classic Cars built engines. I had done it, I was so happy and I loved every moment.
I had achieved more than I had dreamt. I am the youngest pole sitter and podium finisher in Healey Driver International (HDI) history and to accomplish this on the 25th Anniversary of HDI racing at Castle Combe was a truly special achievement. To top it off I was also awarded 'Driver of the Day' independently chosen by Castle Combe Race Circuit and sponsored by Abraham's Jewellers. Then in November, at the 2015 HealeySport – Presentation Prize Giving and Dinner Dance  I was also presented with best new comer to Healey Sport.
I have now competed in nearly 60 races at just 18 years old and I am looking forward to 2016 and some more historic race events in the Healey, with my Dad of course.
A huge thank you to everyone who made the day one to remember. For more pictures taken at this weekend please take a look at the Bill Rawles Classic Cars Facebook Album Castle Combe Autumn Classic 2015
I have also made a video too:-