Rawles 2015 Summertime Activities
 Where has the summer gone?
Summertime, traditionally the time for taking a break and a well-earned holiday but at Bill Rawles Classic Cars we had a very busy time. The workshop continued to be a hive of activity with a mixture of work, ranging from long term restoration projects, servicing, maintenance and one off specialist requests. We have also been part of a number of outings, visits and social gatherings. Who says you cannot mix work and pleasure? We were blessed with fairly good weather, which always makes life easier. The summer definitely came and went in a flash. With the evenings starting to draw in and winter is on our doorstep it is nice to reflect on those warm sunny days. We had a lovely summer and we hope you did too. We packed a lot of classic car activities into a few months, here are just some of our memories of summer 2015…….
A visit from The KBC Car Club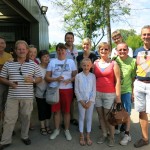 The KBC Car Club is a classic car club for more than 100 colleagues of the KBC Bank in Belgium. On a chance meeting back in April 2015 we met the organisers of the club while they were carrying out the final preparations for their upcoming Summer Hants Tour. We got chatting and we offered the club a visit to our workshop, if it fitted into their plans. The KBC Hants Tour took place in July. The sun shone and they drove around the Hampshire countryside in their classics. The holiday took in the sites and scenery of our beautiful Hampshire countryside. They enjoyed visiting Stonehenge, The Isle of Wight, The New Forest, The National Motor Museum at Beaulieu and the Brooklands Museum. The New Forest Austin Healey Club pub meet at The Potters Heron made for a very sociable evening when we all met up. With a small language barrier and a bit of signing we were able to share our classic car stories and admire each others vehicles. Then at the end of their holiday, on route to the ferry, the car club visited the workshop. We spent a very enjoyable few hours together, drinking tea and eating cake, before setting off for home. We have made some new friends and we will definitely be meeting up again. The KBC Facebook Album
New Forest Austin Healey Club Day out at Arundel Castle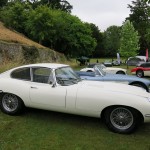 On Sunday 12th July, we joined the The New Forest Austin Healey Club for a day trip to Arundel Castle and Gardens. The home of the Earls of Arundel and Duke of Norfolk for more than 800 years hosted four classic car events in 2015. The Classic Car gathering we attended was the first general show to ever be hosted at this fabulous West Sussex venue. Car Clubs were invited to park up on the lower lawns of the castle from 8.30am. The displays of cars could not move between 11am and 4pm, while visitors wandered around and enjoyed the vast array of vehicles. Unfortunately the weather was not kind on this day but it did not put the brakes on our enjoyment. We joined 13 other Healeys with our Jaguar E Type. On arrival we had a quick coffee break and then proceeded to have a tour of the finely preserved castle rooms, including the Barons' Hall, the Regency Library and the bedrooms. We then ascended the Norman Motte and Keep. Despite the low cloud cover and grey skies we could still admire the views across the South Downs and the River Arun. We were not brave enough to join the other Healey Club members for a picnic on the lawns and took a short stroll into town for a fabulous pub roast dinner. After lunch the rain stopped and we walked the calories off in the castle grounds. The gardens were stunning and provided ample material for photographing. The alium extravaganza in the walled garden was coming to an end but the wild flower beds, the cut flower, rose, white, organic kitchen and Collector Earl's gardens, along with the fabulous glass houses and stumpery did not fail to please. Amongst the garden walks is the Fitzalan Chapel. The Chapel was founded in 1390 and is still the burial grounds of Arundel Castle. We had a great day and we will definitely be returning for another visit. Photos can be found in our Austin Healey Club Events Facebook Album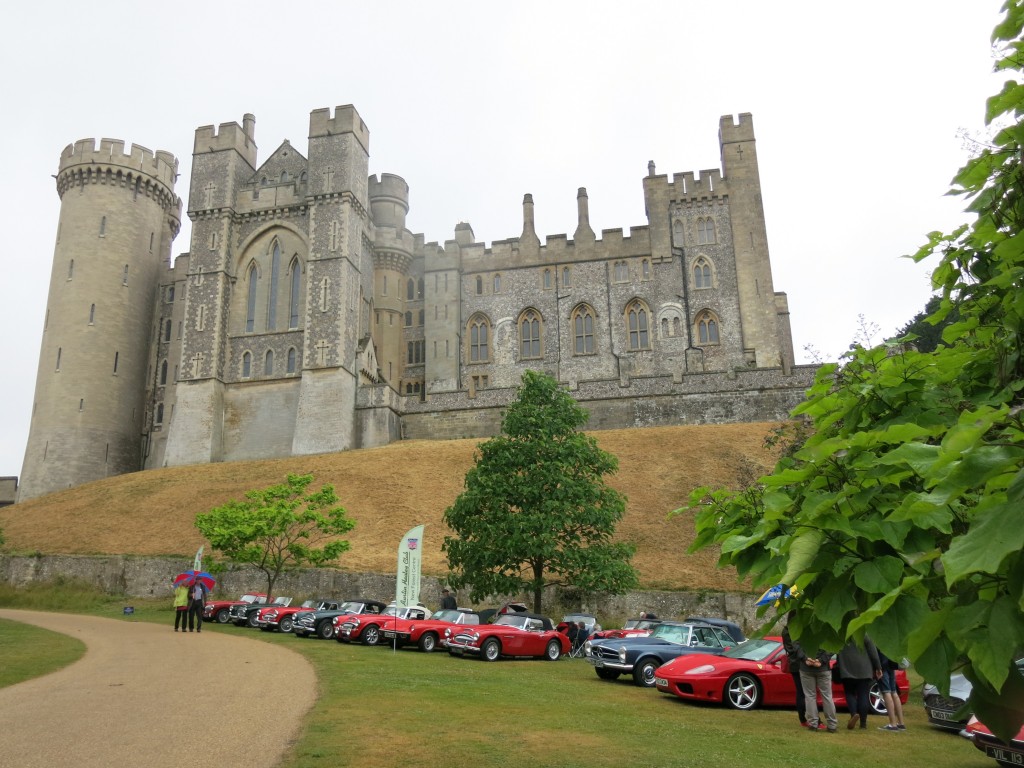 .
The White Dove Collectors Transport Show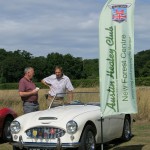 Sunday 09th August 2015 was a perfect British Summers' day to host The White Dove Collectors Transport Show, a one day annual event, which year on year just keeps getting bigger and better. We have been sponsoring this amazing, worthwhile event for over 4 years now. The show was conceived over a decade ago by the events Chairman and Treasurer, John Turner. He had the idea of organising a small-scale gathering of classic cars and motorcycles to raise money for the local hospice, The Phyllis Tuckwell Hospice. It has become an extremely popular local event and this year we were very pleased that The New Forest Austin Healey Club also chose to come and pitch up alongside our Bill Rawles Classic Car area. 2015 saw a record turnout of over 400 cars, motorbikes, military and farm vehicles. It was a superb day in weather and atmosphere. It was easy to fulfil the day socialising, wandering around the show ground looking at the vehicles on display and the stalls, as well as enjoying the refreshments available and listening to the music, whilst bathed in glorious sunshine. All good car shows have a competition and prizes. The White Dove Collectors Car show is no different and it was a nice surprise at the end of the day when New Forest Austin Healey Club members, Jim & Jan Finch, were awarded 2nd in the Pre 1960 Sports Car class for their red Austin Healey 100, BN1. More importantly this year a record amount of £15K was collected for the Hospice. We hope that next year more people will come along and support this tremendous coming together of people and vehicles all in aid of an amazing charity.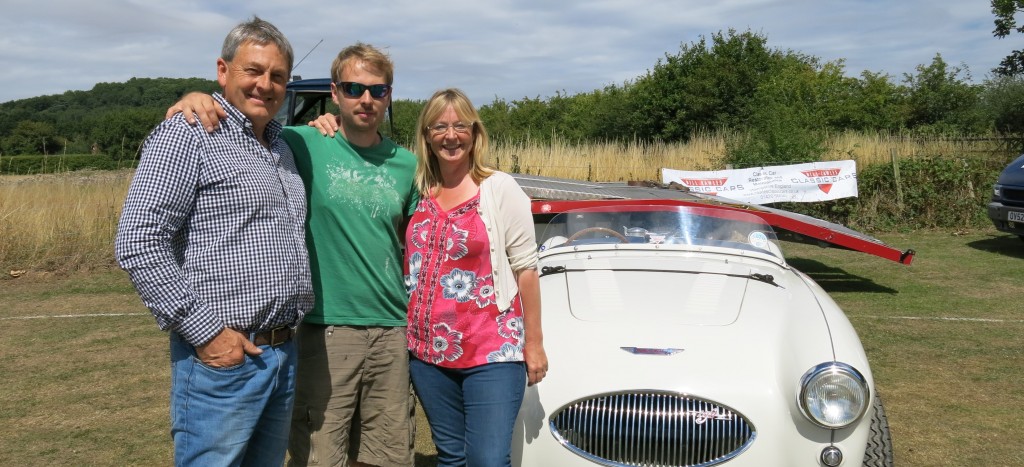 West Dean 20th Anniversary Chilli Fiesta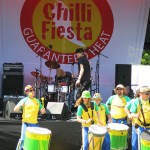 Even when you have far too much work sometimes when you have an offer of a day out you have to seize the moment. On Friday 07th August 2015, our 17 year old son, Jack invited me to go to the Chilli Fiesta at West Dean College, near Chichester. How could I refuse, another glorious sunny day and Jack had manipulated the use of the Jaguar E Type as well. We set off in the E Type on a beautiful drive through the West Sussex countryside, taking in the stunning scenery of the South Downs National Park. The West Dean Chilli Fiesta has run since 1995 and is a mecca for devoted chilli fans from all over the world. There were over 300 chillies and sweet peppers on display in the immaculate Victorian glasshouses. The chillies came in all manner of shapes, sizes and colours. The Fiesta was another British day at its best. Basking in the sunshine we enjoyed the live entertainment on the large stage, had a tasty lunch chosen from one of the many food stalls, sipped a cool drink and relaxed in the multi-cultural atmosphere which had been created by the mix of sights, sounds and smells. It was fabulous watching people toe tapping, dancing and clapping to the Latin Fiesta band. Jack and I took time to wander around the parkland, walled gardens and glasshouses. We watched cooking demonstrations and took part in tastings and of course we bought a few chilli based products. Would we go to this event next year, our verdict is yes. More pictures can be found in our Facebook Album Days out in a Classic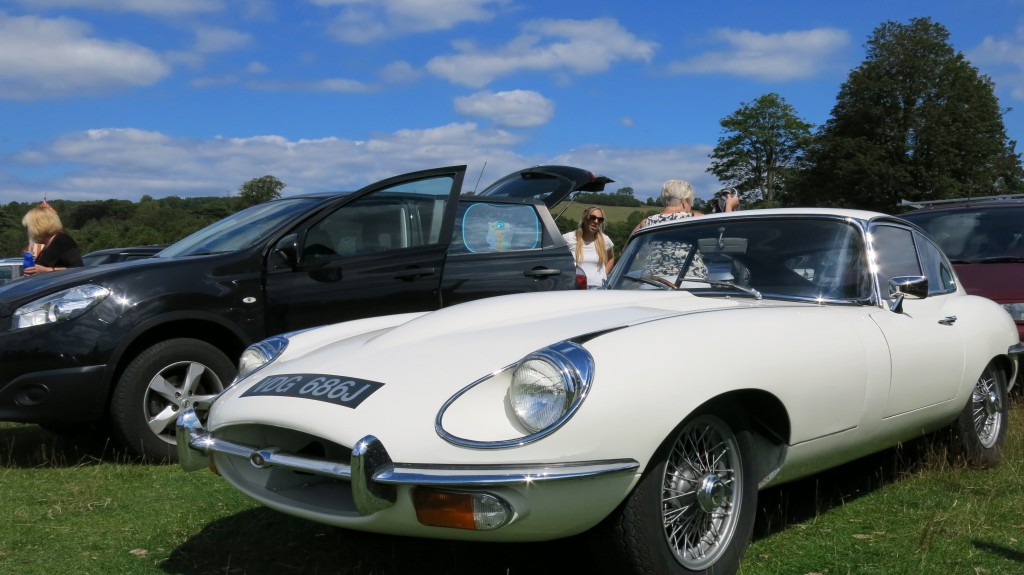 The Hinton Arms Vintage Vehicle Meet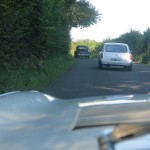 At Bill Rawles Classic Cars we like to try and support our local events. When two fellow Austin Healey owners and good friends told us that they were part of the team organising The Hinton Arms Annual Vintage Vehicle Meet on Sunday 06th September we put the date in our diary. Yet again we woke up to glorious sunshine and wall to wall blue skies. There was not one cloud in the sky and the temperature was rising. We set out in the E Type Jaguar and Jack in his freshly prepared MGB. The pub is not too far from our workshop but we chose a route to meander through the country lanes. We soon caught up with a few more classic cars en route and entered the pub car park in convoy. The flyer advertised the gathering to "All welcome" and how true this lived up to be. Whether it was a new or old vehicle, vintage or classic, the field behind the pub soon filled up to create a spectacular gathering of transport. The event had such a wonderful community feeling as people gathered around the cars, motorbikes, lorries, tractors and commercial vehicles. It was an amazing chilled atmosphere with groups of friends and families seizing the moment to be together and have a drink or two, a bite to eat from the hog roast or pub bar menu, listening to live music by jelly bean jazz, surrounded by the beautiful countryside and bathed in warm sunshine. This day out was an absolutely fabulous truly British country life event, amazingly organised and definitely one on the calendar for next year. More photos in our Facebook Album 2015 – The Hinton Arms Vintage Vehicle Meet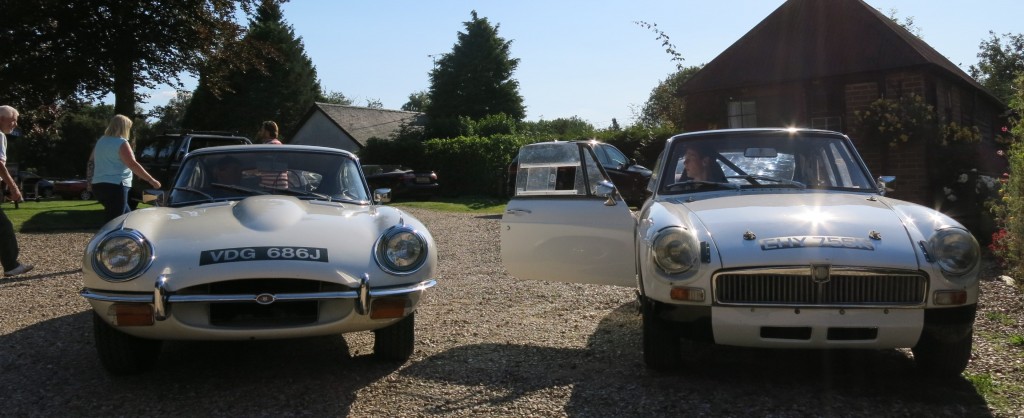 The Goodwood Revival 11th – 13th September 2015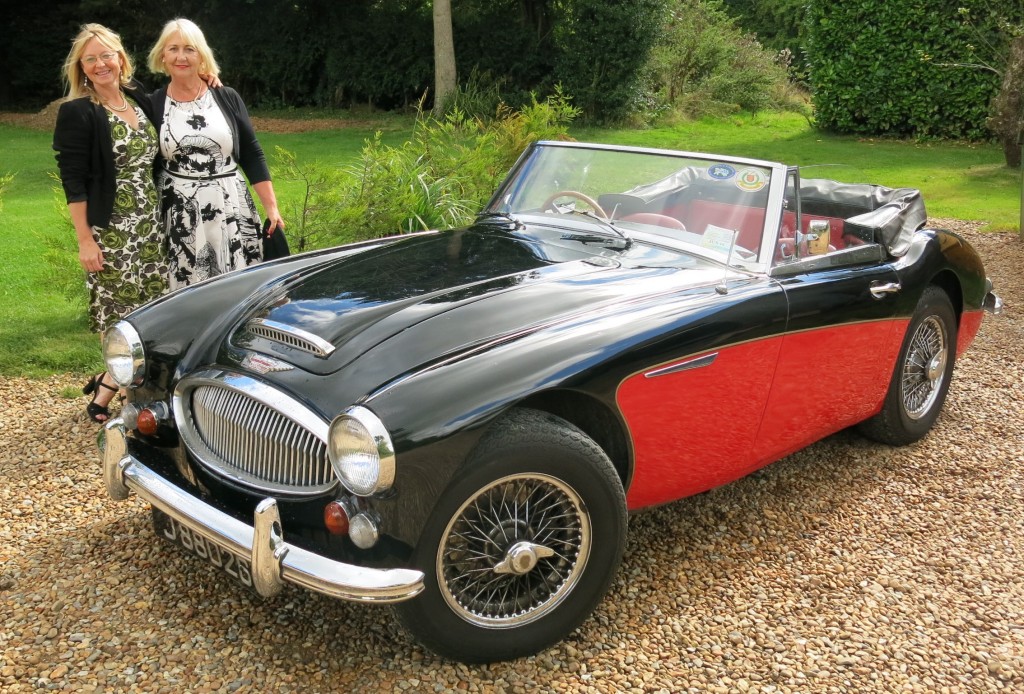 The Goodwood Revival is an event that many people try to visit at least once in their lives and some even make it an annual priority on their calendar. This year at least one member of the Bill Rawles Classic Car Team made a trip to Goodwood over the three days, whether it was in an Austin Healey, an MGB or a Jaguar E Type. We even had an Austin Healey enthusiast from Jersey come and stay with us for the duration of the Revival. The Saturday saw a girl's day out in a Healey. We set off mid- morning, taking in a drive and stopping off for a pub lunch before arriving at the Revival. We had a fabulous day, laughing, talking, catching up with so many people, browsing, shopping, watching the racing, the aero displays and of course the people and their cars. It is always a delight to see visitors of the revival getting into the spirit of the event by dressing in period clothing, which is a big part of the appeal. No doubt, Revival is home to the world's greatest classic cars whether it be in an exhibition, in the car park or racing wheel-to wheel around the Goodwood Circuit. Away from the racing action and the circuit crowds, is the car park in the field. The car park in its self has become part of the show as Revival visitors proudly line up their classics for all to see and admire. This has probably become one of the best classic car shows in the world. People drive here from all over the UK, Europe and probably further afield to be part of this amazing spectacle. If you have never been to Goodwood and you love cars, racing and planes, then maybe next year this will be something you try to do. The Goodwood Revival probably has something for everyone, whether it be the 1950s themed fairground, the famous motor circuit, car exhibitions, fashion, food, drink, music, dancing, entertainment or just people watching. Next year's dates are 9th to 11th September 2016. We have a Facebook photo album 2015 Goodwood Revival
Saturday Natters & Nibbles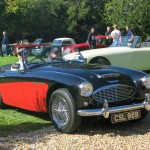 As well as many day trips out in our classic cars and supporting classic car events, each month from April through to September we staged our own little classic car show. Saturday Natters & Nibbles is the name given to our once a month coffee morning held at our workshop, which is currently at our house. We open up the back end of our garden and everyone can park up for an hour or three, meet up with other classic car enthusiasts, socialise and enjoy our relaxed venue. If you like cars, chatting, cakes and bacon sandwiches you will probably enjoy one of our gatherings. This year we saw record numbers turning up and we are truly grateful for your support. It gives us great pleasure to be able to host a meeting where people seem to be truly enjoying themselves. We make everyone welcome, men, women, children and dogs too. The thinking behind the idea was to provide a destination to drive out to, chat, share stories, tips and advice, relax and meet other classic car owners. The workshop is open and the Bill Rawles Classic Car team are ready to chat. We also offer a chance to put your car up on a ramp and carry out an inspection and maybe discuss any concerns you may have regarding the cars health. We have also become quite well known for our array of homemade cakes we provide too. Our mornings are free and open to anyone, all we ask is that maybe you put some of your lose change in our charity collection box. Last year we raised over £300 for the Alton and Petersfield Multiple Sclerosis Society. We are still waiting to find out what we have managed to raise this year. The pot is full and very heavy but needs to be counted. We would like to say a huge thank you to everyone who came. Look out for our 2016 dates, we look forward to seeing you again, please spread the word. Thank you – 2015 Saturday Natters & Nibbles Facebook Photo Album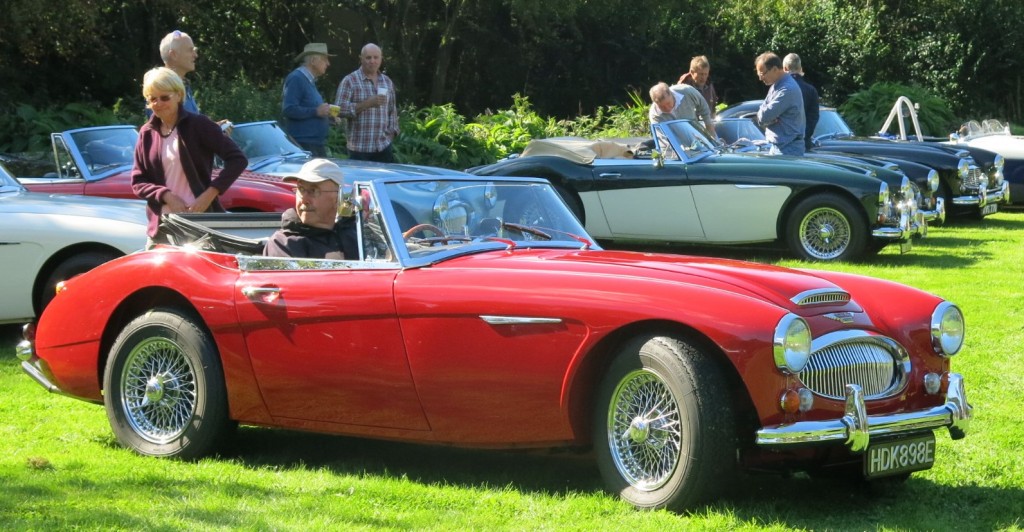 The Petersfield Summer Festival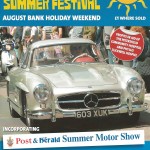 The August Bank Holiday weekend – 29th-31st August 2015 saw the return of The Petersfield Summer Festival to the town centre. A great local event that brings the community together and sees the town centre come alive with amazing live music, family entertainment, a mini beer festival, stalls, stands, a petting zoo, fund raising events and many other attractions aimed at the young and not so young. Our local newspaper group The Petersfield Post and The Herald produce the official programme and organised the motor show. Bill Rawles Classic Cars is always please to support this event and every penny collected from those who came to enjoy the Festival and to look at the magnificent turnout of veteran, vintage and classic cars goes towards The Petersfield Community Hospital and The Phyllis Tuckwell Hospice. We sent Jack Rawles and Eleanor Howard along to represent Bill Rawles Classic Cars and here are their pictures of the day…… Petersfield Summer Festival
Autumn, Winter and 2016 to look forward to
So with the summer behind us we have a few things to look forward to over the autumn and winter months and a lot of ideas and planning to carryout for 2016. Please give our Bill Rawles Classic Cars Facebook Page a like. We keep our page up to date with everything that is going on in our classic car life. Whether it is cars and work in the workshop, racing and track days or social events, outings and gatherings. All the latest news and pictures can be found here.