Bank Holiday Motorsport Fun
 Bank Holiday weekend at Brands Hatch Indy with The MG Car Club
The first Bank Holiday weekend of May 2015 saw a lot of motorsport going on, up and down the country. Over the Bank Holiday weekend of the 2nd & 3rd May The MG Car Club saw the second round of its championship take place at Brands Hatch. The MG Car Club promotes and runs several of its own championships and regularly features guest series at its events. It is the most active single Marque race organising Club in the United Kingdom. There are seven national MG Car Club race championships catering for all MG models and one race series.
Jack Rawles has been invited by owner, Ivan Hayward, to share his MGB in the 2015 Equipe GTS race series. The Equipe GTS is designed for pre-1966 cars with engines spread across five classes from under 1150cc to 2700cc. It runs to MSA Appendix K rules, but FiA papers are not required for 2015. The new series combines the previous Ecurie GTS, run by the MG Car Club and the Equipe GTS owned by Aston Club Racing.
Not a good way to start
Jack Rawles grew up watching his Dad, Bill Rawles, race his Austin Healey 3000 MK II. After competing for two years in the Ginetta Junior Championship, specifically for 14 to 17 years, Jack has the opportunity to race a classic car in a classic car championship for the first time. In order to prepare for the first meeting, Ivan and Jack headed off for a test day at Snetterton Race Circuit, located in Norfolk.
Unfortunately neither Jack nor Ivan had much practice time. Jack managed to put in 15 minutes. However, the practice time was cut short. Ivan on his first session had an unfortunate incident, resulting in the day coming to an abrupt end. The car suffered quite a bit of bodywork damage. It was now a frantic race against time to get the car fixed and ready for Brands Hatch.
What next?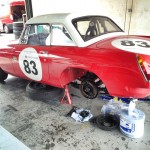 Excited and eager to race Jack and Ivan set off early on the Friday morning. Naturally both Jack and Ivan couldn't wait for the weekend to begin. Full of anticipation, expectation and maybe a few first time apprehensions. This is Ivan's first year of competing in a race championship and Jacks first year in a classic car. The MGB looked amazing. The bodywork freshly repaired, the paintwork shining and the mechanics checked. Jack was given the first run around Brands Hatch Indy. The shorter Indy layout has 10 corners over 1.198 miles. Having competed twice on this circuit in the Ginetta Junior Championship Jack was feeling pretty confident. Yet again the track time was cut short after just 5 laps. Jack said "I was accelerating out of the hair pin and I heard a loud bang" This loud bang was due to a broken half shaft. A new half shaft was located some 75 miles away in Hemel Hempstead. Thanks to MG Motorsport the new half shaft was available and purchased. So it was back in the van, another 75 miles to Bill Rawles Classic Cars. A late night working on the car ensured it was fixed and ready to race on Saturday.
Ready to Race
The race weekend consisted of two thirty minute races. Qualifying took place on Saturday morning. Due to the catalogue of problems that had been encountered, Jack had only managed a limited time out in the MGB and had never before driven on Dunlop L sections. He put in a sterling performance amongst a bumper grid of 27 cars. He qualified 16th, just 0.108 seconds behind pole position. Jack transformed his 16th place start to 10th overall and fourth in class by the time he reached the chequered flag. This was heralded as a great result from the youngest driver on the grid. Jack said "I had a good start; I settled into the race and got behind a train of MGs and TR4s. I began to work my way up the field and had some great battles but unfortunately the 1840cc MGB didn't have the legs on the straights to get passed the 1950cc MGBs and the 2300cc TRs. I am pleased I managed to set a faster lap than the highest placed MGB and I was 1.4 seconds quicker than I was in qualifying and I hope to get quicker as the year goes on"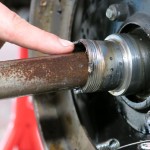 Sunday, it was time for Ivan Hayward to take to the track and race. This was Ivan's first time racing at Brands Hatch. His family and friends had gathered trackside to cheer him on. The weather was unpredictable and rain showers were threatening from the grey skies above. The pressure was on to perform and finish free of any incidents. Starting 25th on the grid Ivan had no expectations of bettering Jacks previous day achievement but obviously wanted to accomplish a personal best. As the race drew to a closure we were all feeling pleased that Ivan had driven well and he had achieved his best. We were looking forward to the chequered flag and another race completed for Ivan. Unbelievably, on the last lap, as he came into view along the Cooper Straight the back, far side wheel was hanging off!!! Disappointingly the half shaft had snapped again and resulted in a DNF.
When are Jack and Ivan Racing again?
Saturday 16th May 2015 – Oulton Park International
Sunday 31st May 2015 – Donington Park
Saturday 21st June 2015 – Silverstone GP
Sunday 21st June 2015 – Silverstone GP
Saturday 18th July 2015 – Snetterton 300
Saturday 05th September 2015 – Brands Hatch
Sunday 06th September 2015 – Brands Hatch
Saturday 10th October 2015 – Silverstone