2016 was ….
Can you believe it is 2017?
The end of a year is a time to reflect, take stock of the year past and plan for the year ahead. How would you describe your year just gone, 2016 was………
Another year has passed and we are all guilty of saying "where did that year go?" Time does seem to go exceptionally fast. It's not surprising when our lives are crammed full with work, family, friends, socialising, messaging, communicating, events, chores, jobs, projects, travelling, business and pleasure. Our lives, work and society does move at an unprecedented pace. 2016 has seen the rise of Donald Trump to the fall of Cameron's Britain, a vote to leave the European Union, troubles in the Middle East, devastating acts of terrorism and the loss of a number of high profile celebrities. Can you believe it was a year ago that David Bowie died? Where did 2016 go? We saw good and bad, happiness and sadness. A great deal happens in any one year on a global scale and a lot happens for us individually too.
Not the best start for Bill Rawles Classic Cars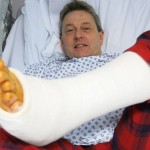 So how did 2016 start for Bill Rawles Classic Cars? The year started off the same as any new year, full of hopes, excitement, plans and dreams, tinged with anticipation and uncertainty as you can never be complacent. Anyone who knows Bill Rawles knows that he was born with more than his fair share of positivity, get up and go, motivation and a switch that is rarely off! The 24th January 2016 was just like any other Sunday morning. Bill had a full day of jobs planned, ranging from decorating, wood chopping, bonfire burning and any general fixing and fiddling that he thought was required. This was all put on hold when job number one, the decorating, went wrong. Overstretching on a ladder, rubbing down some plaster in the stairwell, ready for a splash of paint, did not go as planned. This school boy error led to Bill taking a high speed ride down the ladder and smashing his foot on a wooden stair. This seemingly insignificant accident, that required a 999 call out, turned out to be a complete life changing episode.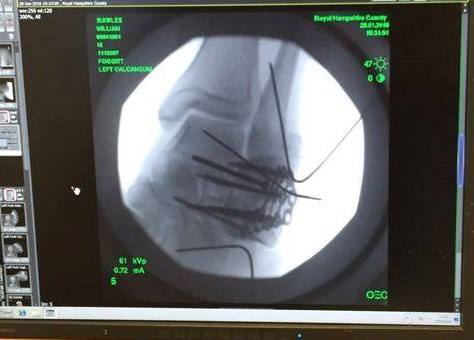 Bill had smashed his calcaneous. A bone we knew nothing about until this day but we have since become well educated and experts on the heel bone or "ducks bill". It turns out to be known as the lovers fracture because it is classically caused in a cheating wife's male lover who jumps from the bedroom window to escape the enraged spouse. Ironically it is also a common injury sustained in high impact motoring accidents. All those years worrying about Bills Healey racing and it should have been his DIY exploits that we lost sleep about!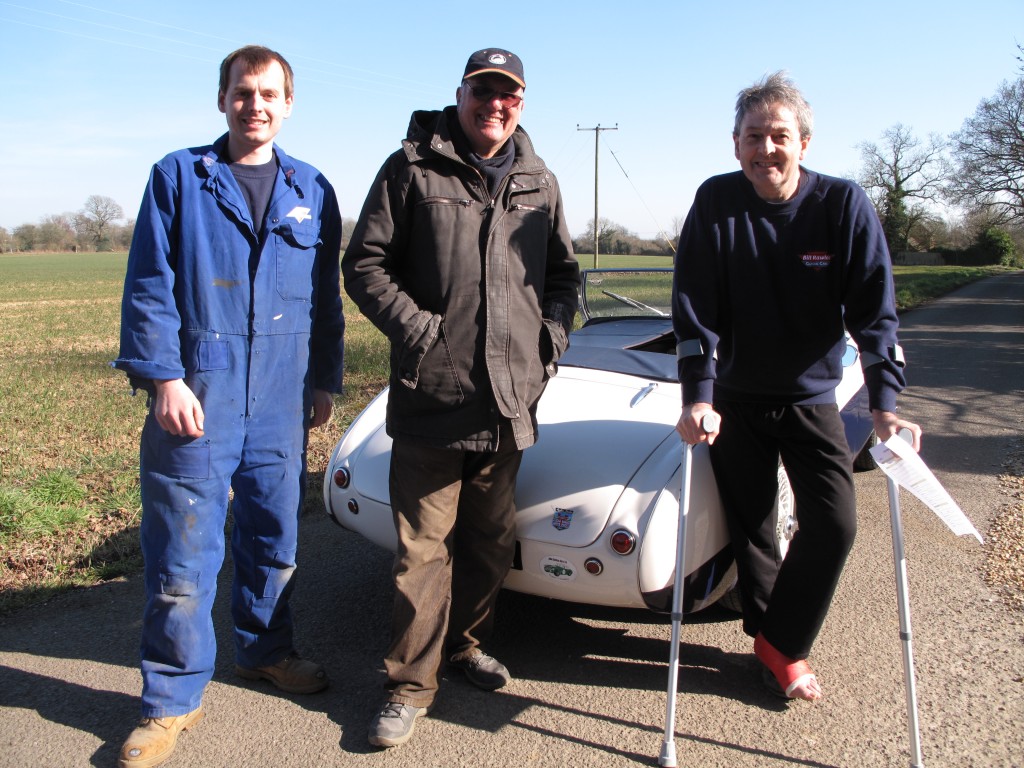 This small mistake led to Bill being in hospital for over 4 weeks, non-weight bearing for 4 months and not really working to full capacity for 5 months.  During this time he developed a bone and flesh infection that initially threatened a loss of limb. Recovery has been slow, with the injury still noticeable as we come up to its anniversary.  Our life revolved around plaster casts, crutches, zimmer frames, mobility scooters, wheel chairs, surgeons, specialists, hospital appointments, endless tablets and physiotherapy. We had an abundance of visitors and well-wishers. These men only coffee mornings required a continuous supply of hot drinks and biscuits.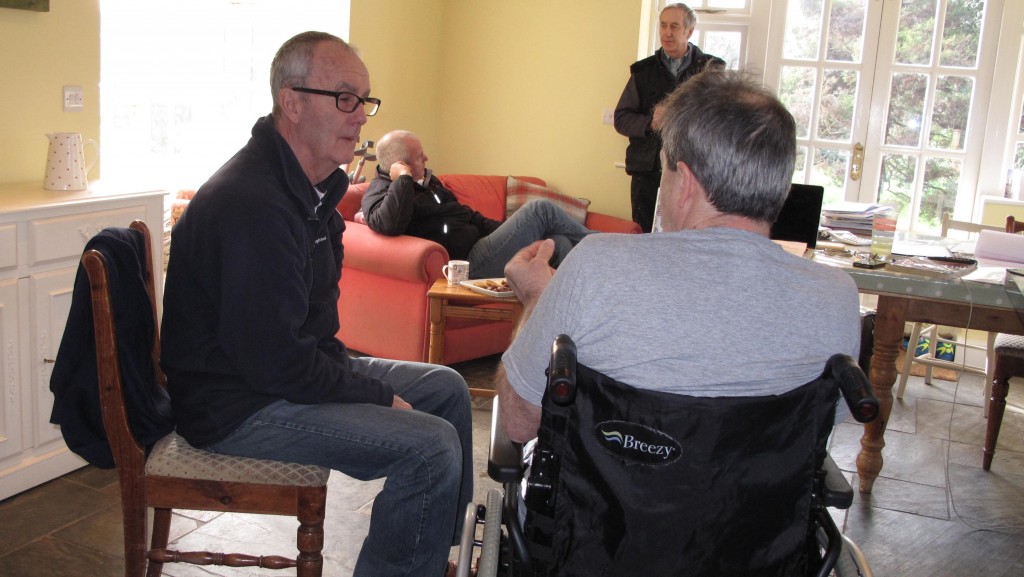 We survived Bills grumpiness, frustration and demands. It was hard to see such an active person become so incapacitated. We can't wash over this episode without mentioning that Bill and sons did enjoy racing and competing in time trials around the house driving the mobility scooter to its full potential.
After all this 2016 only got better. Did I mention Bills positivity, drive and determination?
What doesn't kill you makes you stronger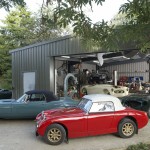 During Bills long recovery time and inactivity it left him with a lot of time to think. With a fantastic team behind him, they faultlessly kept the business running. It gave Bill minimum stress and maximum time to get back on his feet (literally). Bill Rawles established Rawles Motorsport of Upper Froyle, Hampshire in 1987 and sold it to Andrew Cluett in 2007 (to avoid any confusion, after selling this business, Bill Rawles Classic Cars Ltd has NO association with Andrew Cluett and Rawles Motorsport). Bill subsequently started Bill Rawles Classic Cars Ltd, a small venture working from Home. With the expiration of the five year non- compete contract with Rawles Motorsport, Bill Rawles Classic Cars has grown year on year.
Bill used his down time to plan a new step for the business. In July 2016 Bill Rawles Classic Cars moved from his purpose built home premises to a new spacious workshop, only a stone's throw away.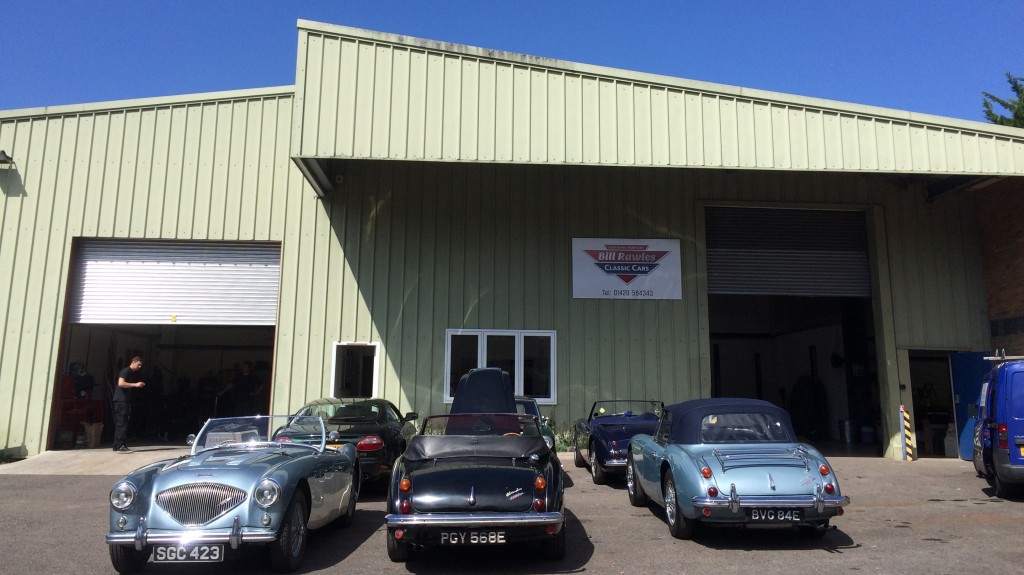 Paul Hardiman, of Classic and Sports Car Magazine came to visit the new workshop and wrote a full page feature which was published in the November 2016 edition of the magazine. Paul said "Since selling up a decade ago, Rawles worked as 'a man in a shed' until gathering momentum forced expansion. The theme is still Big Healeys, but this time Rawles v3 – if you will – is more organised, more streamlined, thanks to experience learned over three decades"
Click on this link to read the full version Focus on The Big Picture, by Paul Hardiman, Classic & Sports Car Magazine, November 2016, Page 209
The workshop comprises new ramps, a four post inspection ramp, three 2 post ramps plus 2 scissor lifts for bodywork, a new tyre fitting machine, lathes, a Bridgeport Mill, a jig borer, an English Wheel, state of the art tig, mig and spot welders. The facilities and strong skill set team caters for all your classic car needs. We have the ability to create bespoke parts and carryout many one off individual requests as well as everyday restorations, servicing, maintenance, paintwork, motorsport prep and engine and gearbox work, trimming, storage and transportation.
The team keeps getting better
We think that we have got the winning team at Bill Rawles Classic Cars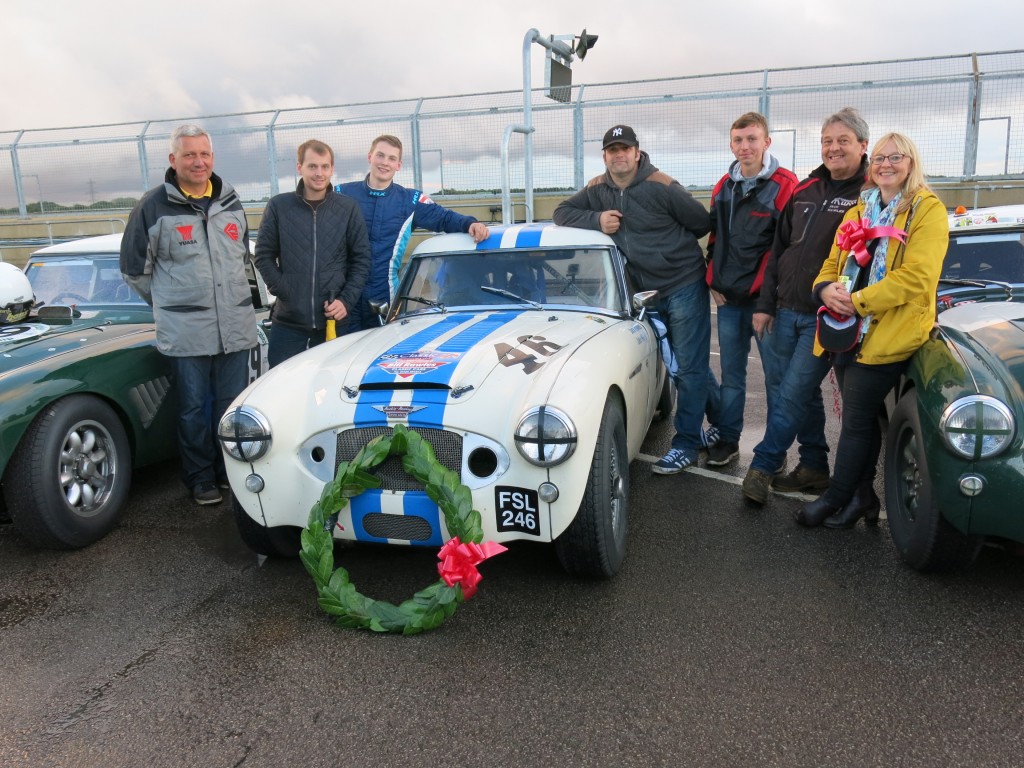 We have the most fantastic, friendly, helpful, dedicated, skilled staff. We are so lucky to have a great bunch of guys, girls and animals who get on so well together. A happy work place is a productive work place. 2016 would not have been such a memorable year without the contribution of each and every team member – THANK YOU – Bill, Rose, Charlie, Will, Adrian, Greg, Tom, Dave, Rob and sometimes Roger, Ollie, Jack, Eleanor, Harriet & Beth
At the end of 2015 we welcomed Adrian and Will. Another father and son team within our team. They barely had time to settle in, when Adrian was thrown in at the deep end and found himself in January 2016 taking on the responsibility of running the workshop with limited contact or direction from Bill in his hospital bed. Adrian, an Austin Healey owner himself, heads up the mechanical shop and nothing ever fazes him. It can be heard whispered around the workshop "Adrian is amazing"
In 2016 we also welcomed Dave Thomas, formerly of XRN Engineering Ltd. Dave heads up our dedicated engine building room, coupled with the expertise of Bill Rawles and his race winning engines. When the workshop is running dry you can rely on Dave to make a brew. 2016 saw a good supply of tea.
We also welcomed Tom Hayward. Tom is currently doing a motorsport degree and joins us 3 days a week. Tom also had a new born son in December and named him…..Austin. Congratulations from Team Bill Rawles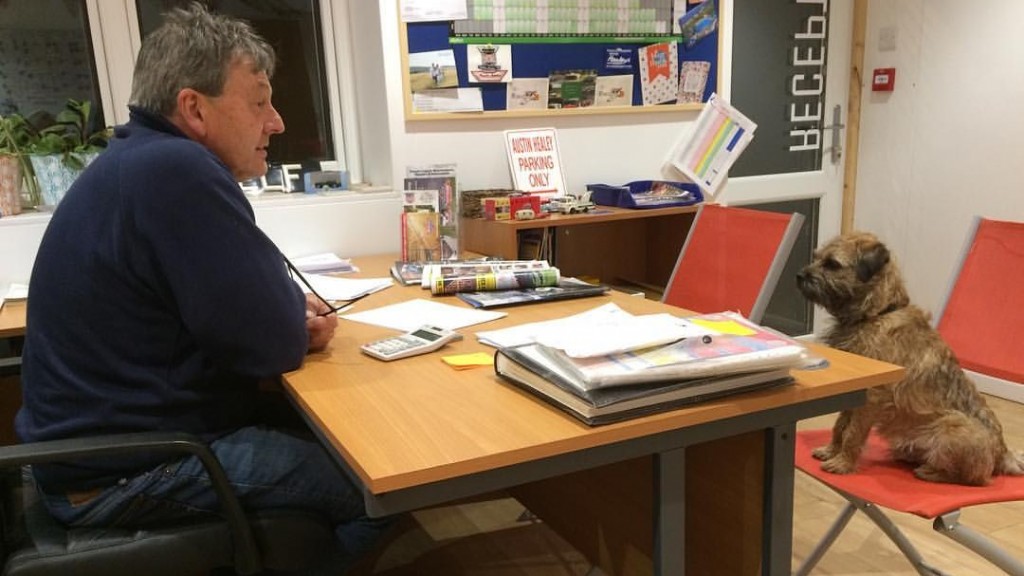 In April 2016 the workshop had the addition of another dog. Alfie had been top dog for nearly 10 years and he had to make way for the very cute Ted. Ted belongs to Charlie Rawles, who heads up our bodyshop and restoration projects. Ted is probably more of an office dog. Alfie's skill sets are more in barking, licking and looking for treats.
Wedding Bells
One of the highlights of 2016 must be the wedding of Greg and Laura. Greg Rogers works with Charlie Rawles on bodywork and restoration. Greg is our early bird and must be thanked for opening the workshop every work day at 8am, before Bill has even opened his eyes.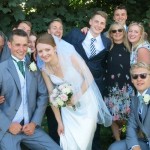 Greg survived the Stag night, organised by best man Charlie Rawles. The stag was treated to a weekend of mayhem, accompanied by team Bill Rawles (minus Bill because he had a bad foot). The climax of their exploits must have been to watch Greg undertaking his surprise skydiving experience. Ice cool Greg said "yeh it was alright, I loved it" However, we are not sure that Laura approved.
Greg and Laura tied the knot on Saturday 23rd July 2016. It was a beautiful day, the sun shone, the laughter flowed and the happiness could be felt. A truly fantastic day organised by two inspirational youngsters. In keeping with his classic car passion, the wedding took on a car theme. Greg had exclusive use of our Jaguar E Type for the weekend and his father in law to be organised a line-up of Renault Alpines. The table settings also had a car theme. We wish you both a long and happy married life. Greg and Laura are off to New Zealand on their honeymoon in February 2017.

Two Austin Healey 100 S sold in 2016
In 2016 we saw a record number of classic car sales for Bill Rawles Classic Cars Ltd. This included selling two of the most sought after Austin Healey model, The Austin Healey 100 S (Sebring). It is thought that the whereabouts of only about 35 of the 50 cars built is known today, so it is not often that they become available for sale on the open market.
Many published reports and articles, detailing 2016 classic car sales and predicting the 2017 trend generally lean towards discussions that the classic car market is still strong and growing, with popular marques still holding value or slightly increasing. Hagerty Classic Car Insurance reports "the UK Classic Car Market is still growing. Big Healeys have risen quite significantly in value in the last few years and values have now stabilised. Good examples are still in demand, especially cars with racing history or some kind of provenance"
Whatever the global pattern maybe, we are not seeing any waning enthusiasm or decreased desire for classic car ownership. Interest and inquiries remain high. People are either adding to collections, making an investment or realizing hard earned cash into an interest and hobby that can provide enjoyment, excitement, adventure and new friendships as well as hopefully increasing in value too.
We think that our honest approach, realistic rather than over inflated sales prices and fixed price sales commission are a strong determining factor as to why we sold 30 classic cars in 2016.
In 2016 we sold the following vehicles:-
1x TR4
1x TR6
1x MG TF 1500
1x MG Ashley Sprite
1x E Type Series 2
2x Austin Healey 100 S (Sebring)
3x Austin Healey Frogeye Sprites
3x Austin Healey 100-6
7x Austin Healey 100 including M spec Marques
10x Austin Healey 3000
The first car that we sold in January 2016 was a commission built Austin Healey 3000 MK I BN7, which a year later has been resold by Graeme Hunt Car Sales of Kensington – The sales spec is extremely complimentary "A remarkable Healey, built literally no expense spared. Over 2000 man hours were lavished producing what must be, if not the best, then certainly one of the very best examples anywhere in the world" The Graeme Hunt sales spec goes on to say "We simply cannot express how wonderful this big Healey really is and to see it is to behold the wondrous works completed by the very well renowned Bill Rawles and his team"
Classic Car owner? Bored?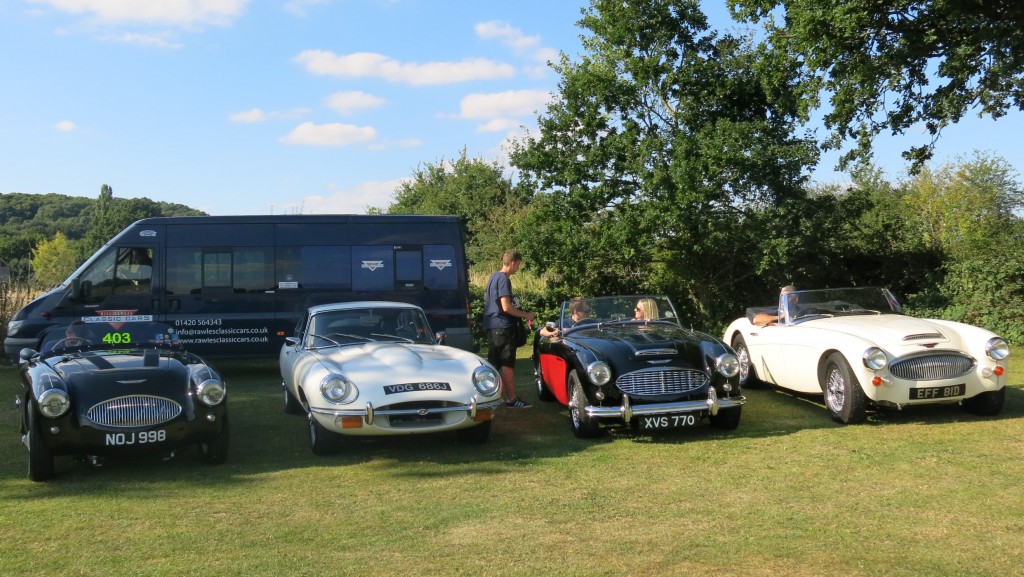 Classic Car owner and the word bored can surely never be used in the same sentence. 2016 was just like any other year with a full calendar of places to go, people to see and things to do in a classic car. We never seem to have enough time to do all the events, shows and gatherings that we are invited to. Bill tried not to let the chronic pain and disability of his injury get in the way.
The Austin Healey Club
As members of The Austin Healey Club and in particular as supporters and committee members of The New Forest Austin Healey Club, we try to support as many of their organised events as possible. We attempt to attend the monthly pub meets and a few of the jollies. In 2016 we joined the annual Dinner Dance in Bournemouth, Drive it Day and the skittles night.
White Dove Collectors' Transport Show
For a number of years we have sponsored The White Dove Collectors' Transport Show. The classic car show has become an annual event not to be missed in our Bill Rawles Classic Cars calendar. Year on year this classic car show has grown and flourished. Every year this event achieves a staggering gathering of vintage and classic cars, bikes, military and commercial vehicles. Once a year a quiet field in Kingsley, near Bordon, Hampshire, is transformed by the dedicated hard working White Dove committee, to a delightful day for socialising, chilling, relaxing, eating, drinking and tapping your toes to live music. All this is done with the sole aim of raising money for The Phyllis Tuckwell Hospice in Farnham. In 2016 we were again blessed with beautiful sunshine and a day full of laughter, happiness and good memories.
The White Dove committee said "We would like to thank the Bill Rawles Classic Car team for their support, commitment and dedication to help us to be able to carry out all the events and the work that we achieve. Thank you for sharing our vision. Also thank you to The New Forest Austin Healey Club for supporting the show for the second year running"
2016 saw £12,263.79 raised for the Hospice.
Healey Drivers Club – International weekend 2016
Healey Drivers Club – International Weekend 2016 – 13th – 15th May – Arundel This year's International Meeting was quite a significant gathering as it recognised and celebrated the 70 years since the fledgling Donald Healey Motor Company produced its first car, which was the 4-seater Westland, capable of over 100 mph and the 60th Anniversary of the Donald Healey Motor Company achieving 201.10 mph in the Austin Healey Streamliner at Bonneville Salt Flats.
Bill Rawles Classic Cars were very happy to be invited to be part of this gathering, we were on hand to provide any assistance with the cars should it be needed.
The weekend started on Friday afternoon with over 60 Healeys and their owners arriving at The Hilton Avisford Park Hotel, Arundel. Saturday consisted of a 35 mile planned drive, taking the cars through the beautiful countryside of the South Downs National Park and arriving at Amberley Museum & Heritage Centre.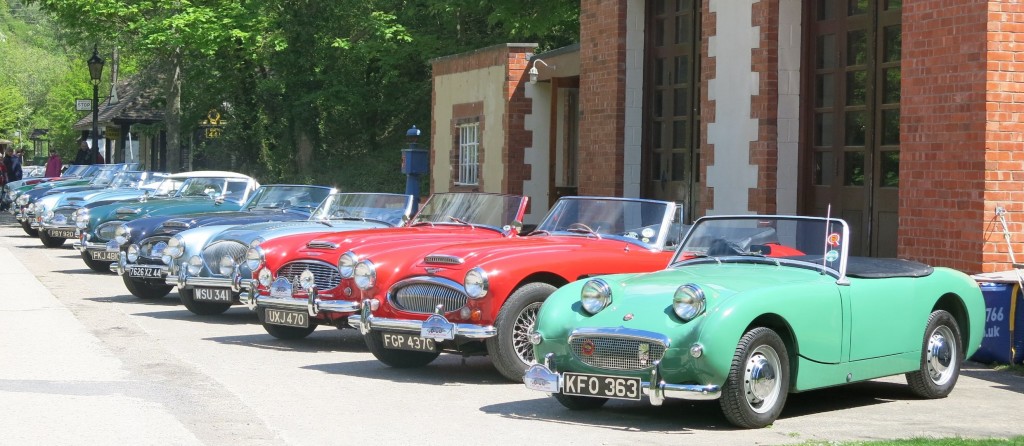 Saturday evening the guest speaker at the Gala Dinner was Ian Northeast from the Bloodhound SSC project who gave an inspirational presentation about the Supersonic land-speed car which is a new high technology project aiming to break 1,000 mph barrier and set a new world land speed record. Sunday consisted of another planned drive to Arundel Castle, followed by lunch back at The Hilton Avisford Park Hotel and Prize giving before everyone said their goodbyes and departed probably feeling a bit tired but very happy after such a lovely weekend.
Natters and Nibbles
In 2012 we had the idea of running a monthly classic car meet at our workshop. 2016 was our fifth year of Natters & Nibbles and collecting for The Alton & Petersfield Multiple Sclerosis Society and The Phyllis Tuckwell Hospice. We were blessed with amazing weather and a record number of people and classic cars attending. We make the coffee and cakes, cut the grass and put up the bunting. The rest is over to our visitors to socialise, chat and have a good morning out. In August one of our Healey customers rushed home and fired up his aeroplane. Before we knew it we had an unscheduled air display of a Yak over our coffee morning. How cool is that?
We have not yet counted the amounts collected but we are confident that you have collected well over £500.00 for our charities – Thank you
 Thames Valley Austin Healey Club Technical Morning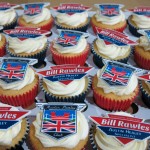 The Thames Valley Austin Healey Club approached Bill Rawles and asked if he would hold a technical morning. Way, way back many years ago Bill held a similar event and apparently it was so much enjoyed that it is still talked about today. So on Saturday 05th November 2016 we welcomed over 25 Healey owners into the workshop. All best laid plans usually go awry. We had a quick planning meeting where it was decided Rose & the girls were on refreshments, Dave was ready for engine building questions, Charlie & Greg were prepared for restoration and bodywork demonstrations, Adrian was all geared up for the mechanical issues, Will was on crowd control and Bill was on tuning and engine set up. This structured format went out the window. The attendees made their own agenda, stayed more than a morning and seemed to thoroughly enjoy themselves. We are not sure what information they gleamed, if any but it was a good social gathering. In fact they enjoyed themselves so much we have been asked to host again in 2017
Anything else?
As well as all of the above we managed to fit in the classic car shows that our local Herald Group Newspapers organise in the surrounding towns of Alton, Farnham and Petersfield. We appeared at a local pub,Classic & Vintage car show, held at The Hinton Arms. We went on a few lunches and pub meets with another small classic car club and we even managed a few trips in the E Type to the coast and National Trust properties. Classic Car owner? Bored? I don't think so
The Mac 4×4 Challenge
In March 2016 Greg Rogers asked if he could take a few days off work to take part in the Mac 4×4 Challenge. The 2016 event marked the 15th annual run. The weekend consists of a test of navigational skills, observation, on and off road driving ability and endurance; by day and night. Each team consists of only two people and one vehicle. The main aim is to raise money for The Macmillan Cancer Support. The Macmillan Cancer Support is the UKs major charity devoted to the support, treatment and care of people living with cancer and their families. The Mac 4×4 Challenge supports Macmillan's continuing efforts to provide better support for everyone affected through Macmillan nurses, doctors, buildings, patient grants and information services.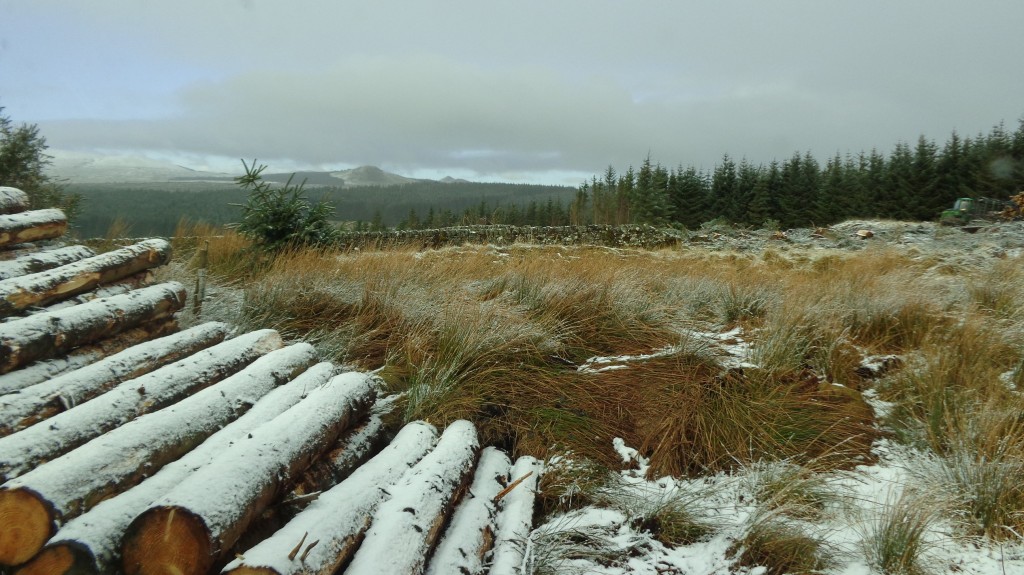 It is intended to be a long weekend of fun covering between 400 and 1000 miles with various "tests" along the way. Initially teams only know where they are starting from; the route develops with the issue of road books as the event unfolds until the finish. Night stops mean sleeping rough, in the vehicle or a tent.
We are proud to say that Greg survived the 4 days with his future father in law and went on to marry Laura later in the year. They also raised a substantial amount for the charity.
A Bus man's Holiday – The North Coast 500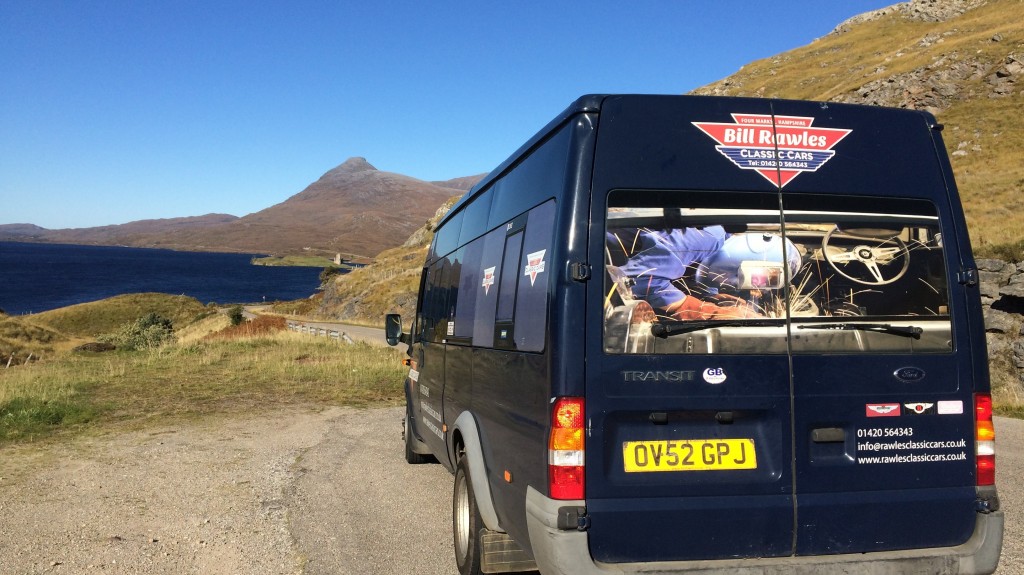 A bus man's holiday is defined as a holiday where you do something similar to your usual work instead of having a rest from it… Well in October 2016 that is exactly what we did. We (Bill and Rose) combined delivering a sales car to Aberdeen and picking up a restoration job in Inverness with a short break. We did a whistle stop tour of The North Coast 500. The North Coast 500 is described as Scotland's answer to Route 66. The North Coast 500 is a 516 mile scenic route around the north coast of Scotland, starting and ending at Inverness Castle. The circular route skirts the very top of the United Kingdom and consists of an open road taking in beautiful scenery, mainly shared with sheep, deer, wildlife and a few other people. From East to West you get to see fairy-tale castles, architectural wonders, ruins, lochs, beaches, towering Munroe's and mountains. These northern climes are remote, challenging and beautiful, offering unparalleled views of the dreamy highlands. This corner of Scotland also has plenty of mouth-watering food and drink to delight your taste buds. With a bit of planning you can find some great accommodation, tea rooms and restaurants. In 7 days we managed 3000 miles and nearly 1000 photos later we can say we would recommend this trip to anyone, especially in a classic car. Will we definitely be returning to do trip again, but in a classic car not a mini bus.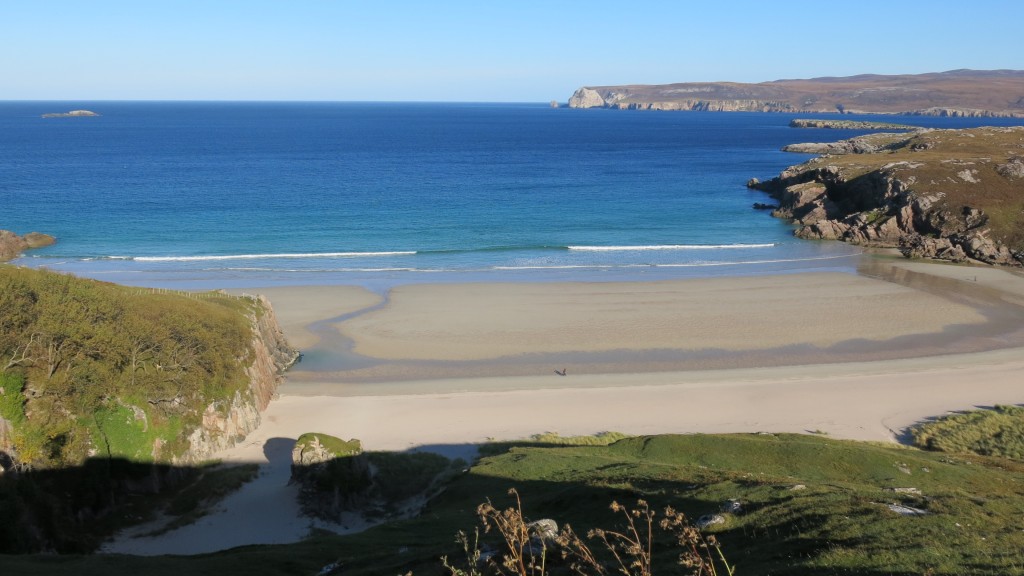 Did anyone mention motorsport in 2016?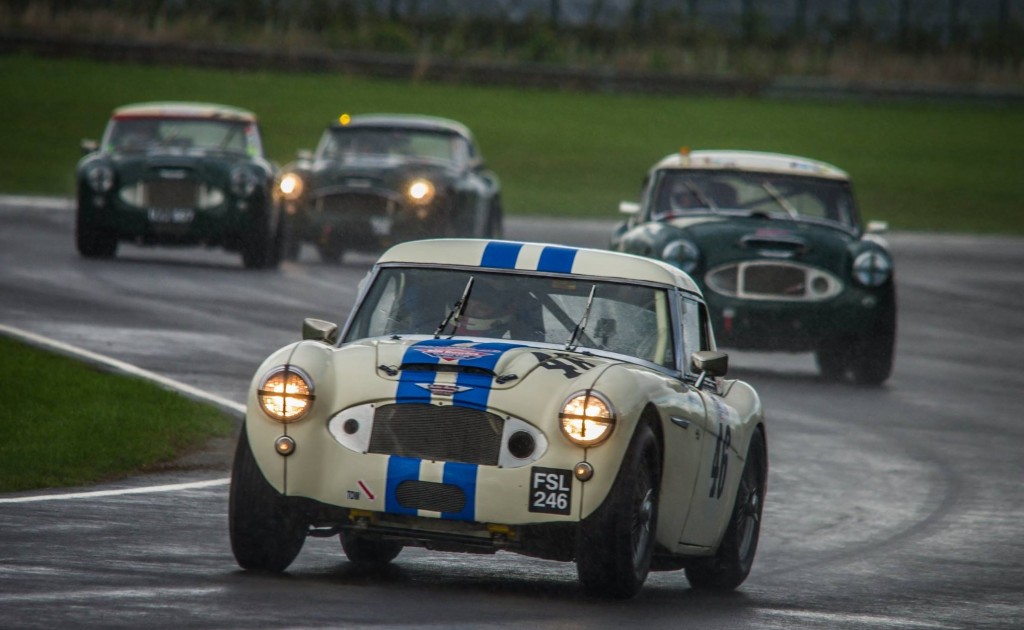 Rounding up our summary of 2016 would not be complete if we didn't mention the little bit of motorsport that we also seem to cram into the year. Motorsport in 2016 was not an option for Bill with his injury. Stepping up to the mark, to fill that vacant race car, was youngest son, Jack Rawles. Could we have a prime suspect from the accident scene? Some even say that Jack Rawles shook that ladder!!!
Jack Rawles had a very successful year racing his Dad's Healey at Silverstone, Brands Hatch and Thruxton in the Classic Sports Car championship. Jack Rawles achieved class positions at all three rounds. He was invited to share two drivers with David Grace in his Austin Healey 3000 at the Spa Six Hour and The Algarve Classic Festival. Again he achieved success at both these over-seas events.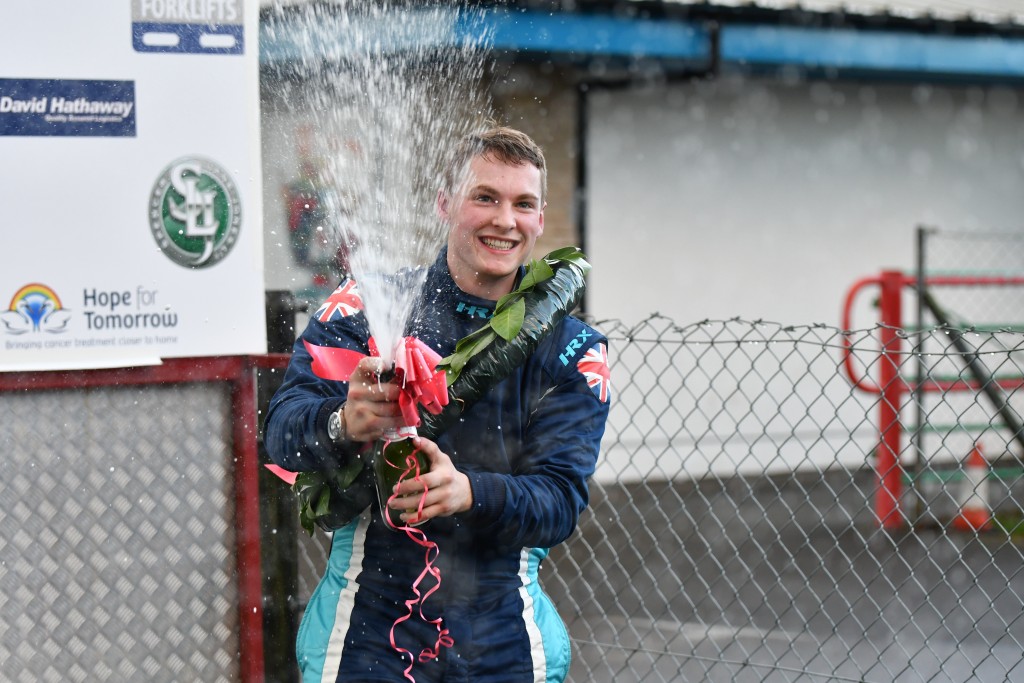 The two highlights of Jacks 2016 racing year must be winning both Healey races at The Castle Combe Autumn Classic and becoming the 2016 Healey Driver International Champion and setting the fastest lap record in a Healey at Portimao, during the Algarve Classic Festival.
Jack was also presented with an award, by David Brabham at the Classic and Sports Car award presentation and Dinner evening.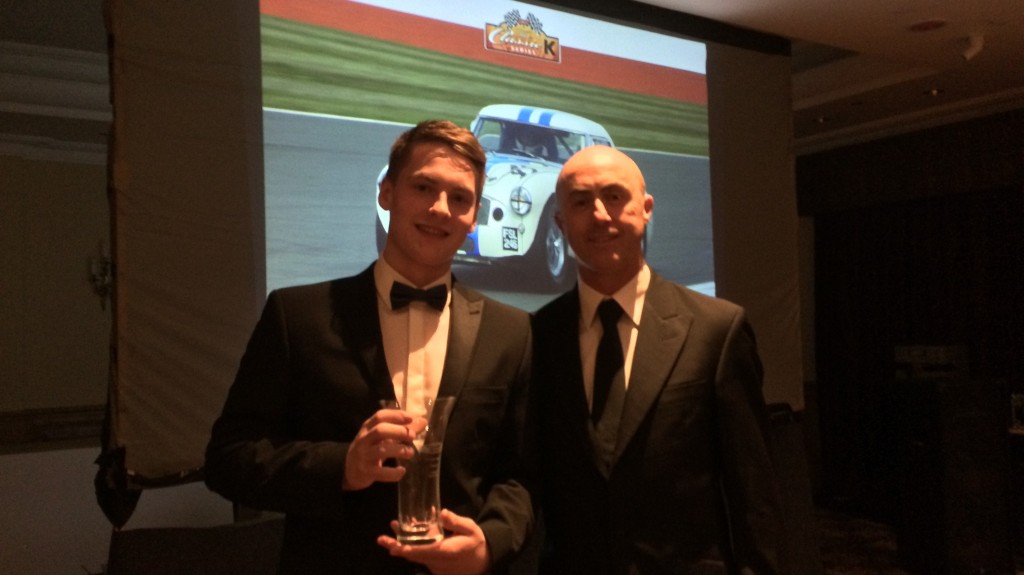 Further reading of some of these events can be found by following these links:-
Jack Rawles & Jake Hill race at Silverstone
Jack Rawles & Hugo Holland Bosworth race at Brands Hatch
A double win for Jack Rawles at Castle Comb
Lap Record created by Jack Rawles at Algarve Classic Festival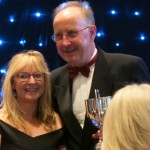 As a business we also sponsor the Jensen Healey and Big Healey categories of the Healey Sport Hill Climb Championship. In November we went along to the Healey Sport Hop at the Village Hotel, Swindon. "We" comprising the whole family and the Healey. The Healey Sport elite gathered for their annual nosh, knees-up and prize giving. Rose Rawles was there and ready to present the prizes for the Big Healey category of the Hill Climb Championship. The evening also remembered Allan Cameron, who lost his battle with cancer in January. Allan was the technical support behind Healey Driver International, as well as its General Manager.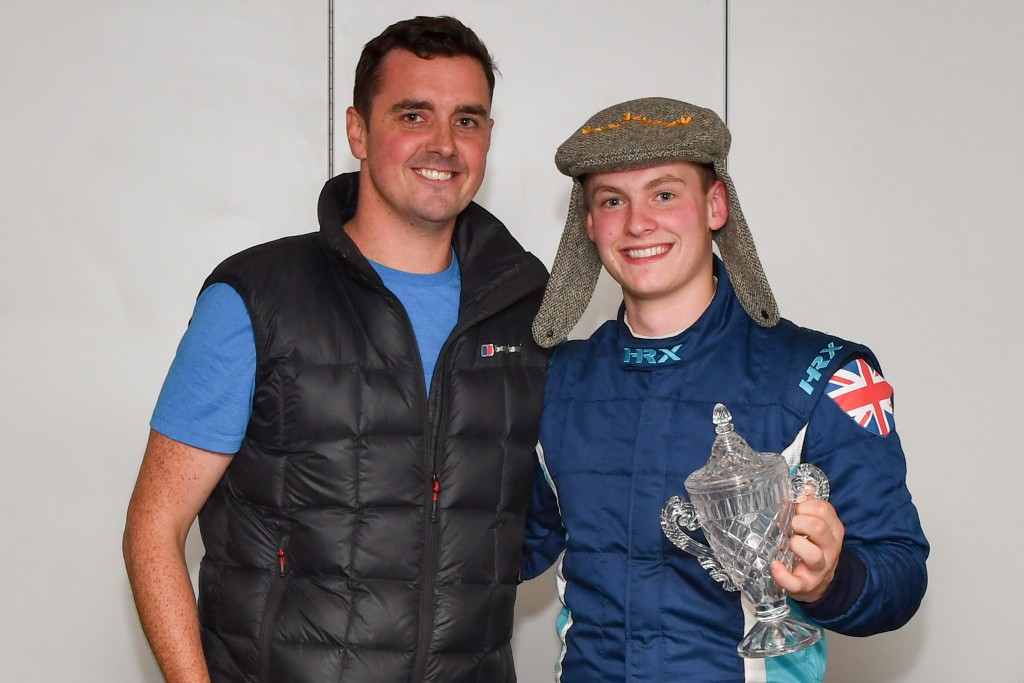 Allan's family, Carol, Neil and Drew very graciously made three magnificent trophies available to commemorate the 2016 race events. The winners are able to keep the trophies in perpetuity to remember the very special contribution Allan made to the Healey competition movement over the years as organiser, driver, participant, car preparer and an encouraging parent behind the racing efforts of both sons, Neil and Drew.
Jack Rawles was honoured to be presented with one of these trophies for winning both HDI races at The Castle Combe Autumn Classic.
During the evening, Jack Rawles was also asked to team up with June Stokes to reward retiring Chairman Derek Ross with a fine Whiskey Decanter for his many years of dedicated support to Healey Sport.
So, where did 2016 go?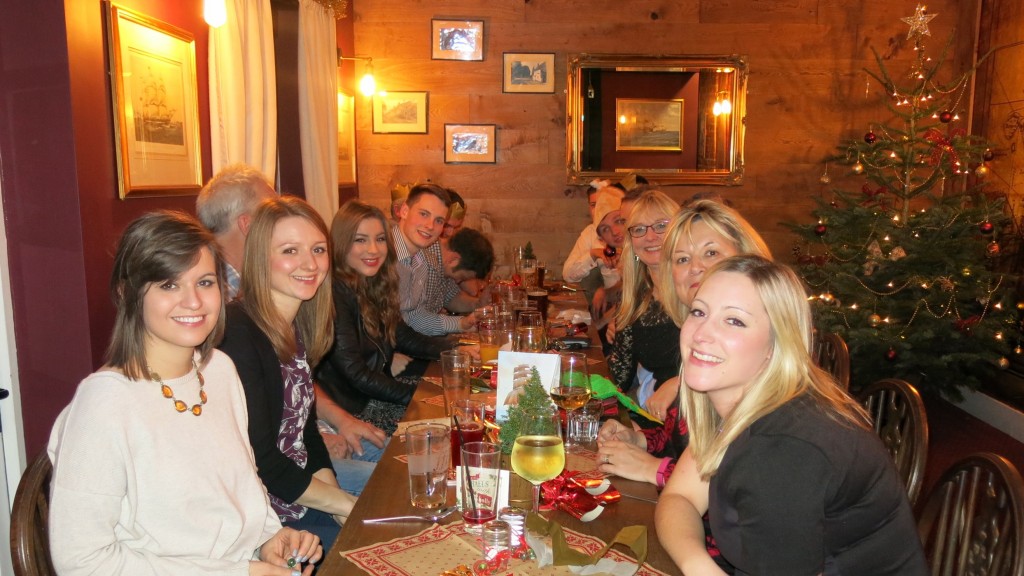 You blink and before you know it, Christmas has come around again. Summing up 2016; from adversity came opportunity. The year definitely started on a negative note but ended on a positive one. We achieved far more than we set out to do at the end of 2015. We crammed a lot into 365 days and in our small way we have carried on with creating our legacy. There is something that this Blog has failed to mention and that is all the different jobs that were in the workshop. 2016 was a very busy year in the workshop. A big thank you to all our customers too.
We left the title of this Blog unfinished; Are we now in a better position to fill in the blank? 2016 was….
a potential disaster
sad
scary
frightening
unpredictable
a wakeup call
busy
buzzing
exciting
eventful
memorable
full of change
fantastic
not boring
happy
good
On reflection it was all of the above and probably a great many things more.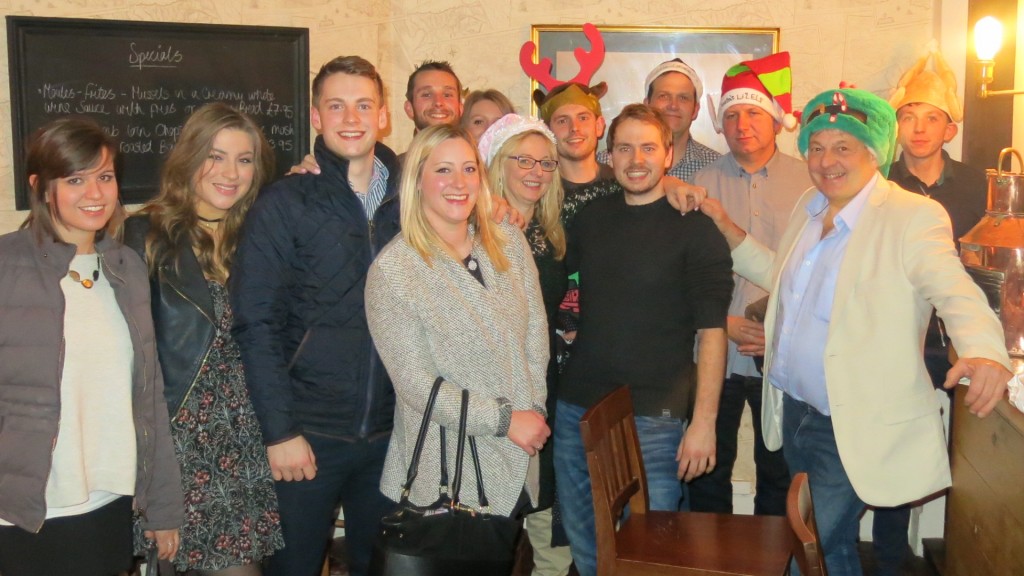 What words would finish your same sentence? 2016 was………..
Happy New Year from Bill & Rose Rawles and all our team. Onward and upwards into 2017