Austin Healey 3000 Fast Road / Competition Car
Sold at Bill Rawles Classic Cars. Click here to view more cars for sale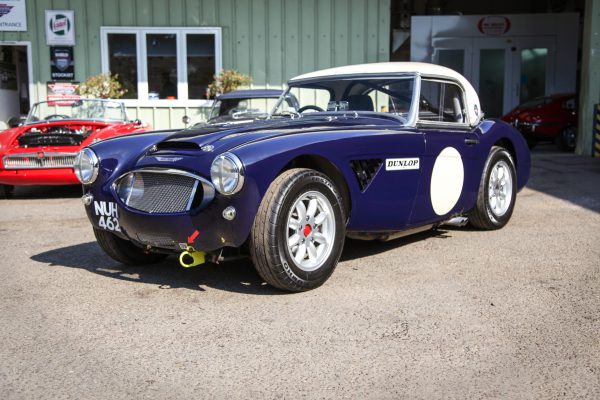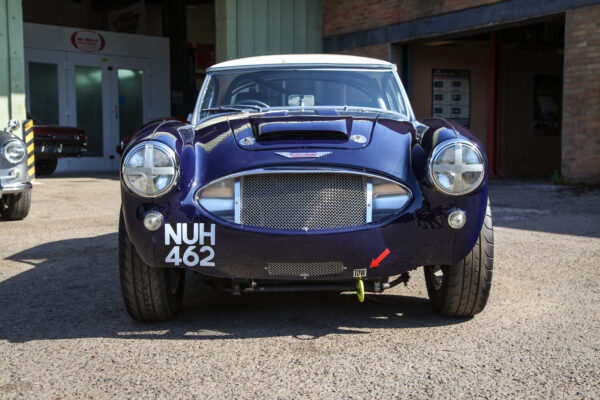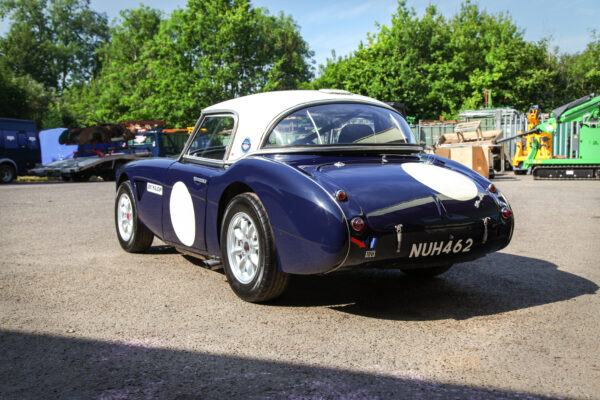 Aside from the classic lines and 1960's styling, Austin Healeys are well known for their competition success in both road or circuit racing and rallying alike. This Austin Healey 100/6 which has been uprated to 3000 spec is a nice example of a fast road Healey which is eligible for sprint and hill climbing or light competition use.
With some competition history, this car looks to be best suited for someone wanting to start sprint and hill climbing an Austin Healey but I think this car has an appeal also to someone who would like a presentable road car that can be driven to and from track days, enjoyed on the circuit and roads as well.
Built with a racing head from one of Bill Rawles' race cars, works inlet manifolds believed to have come from the works car TON 792. A stripped out interior and de bumpered look and racing grille means this Healey really does look the part. Built with metal shrouds and doors but with the addition of glass fibre wings front and rear with the idea that should anything go wrong, these could easily be replaced. With bolt on minilite wheels the car is presented in very good condition and certainly has a ready to go stance.
The works hard top will keep you dry should the heavens open and the uprated gearbox and quaife LSD diff will make sure that you can make full use of any wet or dry weather fun.
A dyno run in 2017 shows an output of 215 bhp which is a considerable uplift from when the cars left the factory. Although it has plenty of power, this would not be too much for road driving and there would still be around 50-60 bhp available should you want to upgrade to one of our full race engines in the future.
Ready to go, fast road, track day or sprint and hill climb Healey.
Figures are provided in good faith and are correct of 2017. Components have not been changed since but every rolling road may vary from what is quoted.
For more information or to arrange a test drive, call the garage sales office and ask to speak to Bill Or Jack Rawles on 01420 564343 or out of hours, 07714 008 925
Did you know? We do not own our sales cars, we sell on a fixed commission of £1,800 +vat which is included in the price, this is not % based incentivised commission sale, so our cars are priced at the correct market values. Every car is checked and inspected before sale and if there are any defects, they will be shown and noted to the buyer before purchase. Buy your Healey with confidence from a trusted and reputable dealer. If you would like to sell your classic car with us, call Jack Rawles on 01420 564343.
Interested in this car? We are here to help... Contact Us
Back to Sales Listings