Austin Healey 100S
Sold at Bill Rawles Classic Cars. Click here to view more cars for sale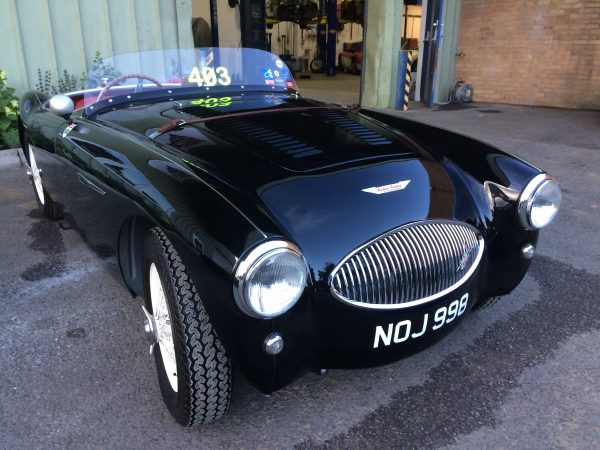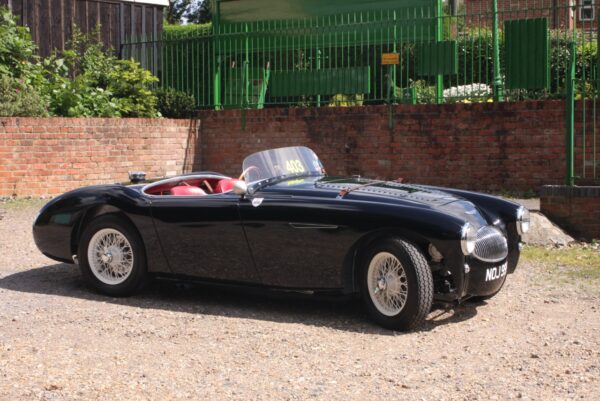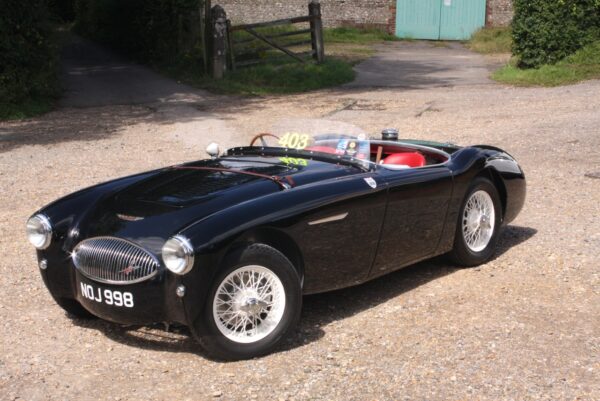 Austin Healey 100S – NOJ 998
This Austin Healey 100S which is currently for sale at Bill Rawles Classic Cars Ltd, carries the chassis number AHS 3601. It was one of the very limited production batch of 100S models built at the Healey Motor Company Ltd's premises in Warwick. Only 50 such cars were produced in 1955 (along with five 'works' competition cars known as Special Test Cars), of which 37 are thought to survive. AHS 3601 is unique, because it was the only 100S which was completed with black, rather than white, paintwork.
AHS3601 was one of two100S models originally supplied to New Zealand, where it undertook an extensive racing programme until 1967. In 1992 the car was restored by Steve Pike, in Australia.
The car was imported back into the United Kingdom. It was authenticated by the FIVA, and an official FIVA Identity document was issued in October 2012.
The car is in excellent condition and is probably as good, perhaps even better, than the day that it was first built in Warwick in 1955.
100S components accompanying this car
Not only is this probably one of the finest 100s production cars but its owner has also assembled an impressive number of spare parts. Many of these items are no longer available on the open market. These are as follows:-
Engine cylinder block/crankcase
Exhaust system, complete
Rear axle/differential assembly
Starter motor, original type
Engine oil pump
Engine water manifold
Distributor and drive shaft from camshaft, original
Brake master cylinder
Perspex windscreen
Engine rocker cover gasket
Radiatot hoses, complete set
Engine sump gasket
Brake hoses – set
Two felt type engine oil filters
4x 72 spoke wire spoke wheels
4x 5.5in x 15in Dunlop racing tyres
Brake pads – set
Brake caliper pistons – set
Distributor cap
Fan belt
100S Technical Specification Summary
Structure:- Steel chassis frame, with box section main members and cross bracing, integrated with an all aluminium two seater body shell. The bonnet is doubly secured with two hooks and a leather strap. Under the nose and tail of the car there are two jack locating points, to use by the quick-lift racing jack which is standard equipment. Two seater sports car body style, based on that of the Austin Healey 100 BN1, but with aluminium body panels. One piece low profile Perspex windscreen. Unlike the 100 BN1, and to ensure lightness, there were no front or rear bumpers, no folding windscreen, and no side curtains.
Basic Dimensions:-
Wheel base – 90.0in/228.6cm
Front track – 4ft 1.62in/126.0cm
Rear track – 4ft 2.75in/128.9cm
Overall length – 12ft 4in/375.9cm
Overall width – 5ft 0.5in/153.7cm
Overall height (over windscreen) – 3ft 6in/106.7cm
Ground clearance – 5.5in/14.0cm
Turning circle – 35ft 0in/10.7m
Weight (dry of all fluids) – 1,888lb/856kg
Engine:- Four cylinders, 2,660cc/162.2 cu.in, with bore of 87.3mm/3.4375in and stroke of 111.1mm/4.375in. Cast iron cylinder block with three crankshaft bearings. Aluminium cylinder head. Two valves per cylinder, operated by pushrods and rockers from single block mounted camshaft. Two SU H6 carburettors, supplied by twin SU electric fuel pumps from 20 gallon (imperial)/24 gallon (US) rear mounted fuel tank.
Peak power – 132 BHP (nett) at 4,700 rpm
Peak torque – 168lb.ft at 2,500 rpm
Compression ratio – 8.4:1
Transmission:- Single late Borg & Beck clutch, 10in diameter, four speed and reverse gearbox, with synchromesh on top, third and second forward gears. Single piece Hardy Spicer propeller shaft to spiral bevel rear axle. Normal axle ratio 2.92:1, alternative/optional ratios of 2.69, 3.66 or 4.125:1 26.6mph/1000rpm in top gear with 2.92:1 rear axle ratio. Overall gear ratios with 2.92:1 axle:2.92, 3.88, 5.57, 8.98, reverse 12.2:1
Suspension:- Front, independent, by coil springs, wishbones, lever arm shock absorbers and anti roll torsion bar. Rear, by beam (live) axle, half elliptic leaf springs, lever arm shock absorbers and anti roll bar. Wire spoke, centre lock wheels, with 5.50-15in Dunlop racing tyres as original equipment.
Steering:- Burman cam and lever, with adjustable steering column and wooden rimmed alloy spoked steering wheel. Right hand drive on all cars.
Brakes:- Hydraulically operated dunlop disc brakes on front and rear wheels. Separate manually actuated hand brake, operating on rear wheels only.
Equipment:- Separate bucket seats in cockpit. Wood rimmed steering wheel. Fascia instrument display includes speedometer, rev counter (tachometer), oil pressure gauge, fuel contents gauge, engine water temperature gauge, battery master switch, fuel supply reserve switch, bottle jack and quick lift racing jack for wheel changing.
Chassis No:- AHS 3601
The original Healey 100 was conceived in 1951 and was first shown at the London Motor Show in October 1952. Almost immediately it was adopted by the newly formed BMC (British Motor Corporation) and re named the Austin Healey 100. The Austin Healey 100 first went on sale during 1953. In the next two years a small series of 'special test cars' were developed and raced by The Healey Motor Company Ltd of Warwick. The 100s were front runners and highly competitive vehicles in prestigious events such as the Mille Miglia, the Le Mans 24 Hours and the Sebring (USA) sports car events.
Along the way, their specification came to include lightweight bodies, more powerful engines, disc brakes and a modified suspension. The cars were getting results on track and demand from customers led the company to market an up dated, productionised version of these vehicles.
In October 1954 a new version of the 100 called the 100S was previewed. Deliveries began in February 1955. Apart from the use of an all aluminium body shell and modified styling details, this was the first, and only, type of Austin Healey to be equipped with a special type of Westlake developed aluminium cylinder head and to have four wheel disc brakes. It was also the first to be equipped with a versionof the new BMC Series 4-speed gearbox, with special close ratio gears.
The 100 BN1 models were built in volume production at BMC's Austin plant at Longbridge, Birmingham but all 50 of the 100S production types were assembled at the Healey Motor Co Ltds small facility in Warwick, and all were right hand drve. The chassis Number sequence began at AHS 3501 and production was confined to the 1955 calendar year.
The majority of all 100S cars built were originally delivered to customers in export territories, notably in North America, Australia and New Zealand. Only six cars were originally sold on the Home market. Although the 100S was only intended to be marketed in white, one car was painted black before it left the Warwick plant – this being the car that we have for sale here at Bill Rawles Classic Cars (Chassis Number AHS 3601)
AHS 3601 (registration number NOJ 998) was one of two new 100S's originally despatched to New Zealand on 1th October 1955. The car had originally been intended for an American customer but he backed out when the time came for him to pay for it.
Because of their pedigree, their rarity, their suitability as race cars at all levels, this classic, iconic machinery, the 100S has always been a desirable car to have. It is quite rare that an Austin Healey 100S comes up for sale. Having said that, in 30 years of business we have never sold an Austin Healey 100S but earlier this year in May, we sold one and now we are priviledged to have the opportunity to market another 100S.
A summarised story of Austin Healey 100S, AHS3601, NOJ 998
This Austin Healey 100S was one of the last 100Ss to be completed, leaving the Warwick factory on 14th October 1955, painted black, interior trimmed in red and white wire spoke road wheels.
It was imported into New Zealand by Austin New Zealand and immediately delivered to Vickery Motors of Invercargill, on the tip of South Island.
In 1956 it was raced on behalf of Vickery, by Barney Giller.
In 1957 it was sold to Jack Grieve, also of Invercargill. Under Grieve's ownership it was registered for use on public roads.
In 1958 it was sold to Max Richards of Christchurch who raced it in the Lady Wigram Trophy race of 1959.
It was then sold again and purchased by Shelley Motors of Wellington.
For the next seven years it stayed in the vicinity of Wellington, originally in the hands of Peter Lawson before being sold back to Tony Shelly of Shelly Motors.
1961 the car was sold to Grady Thompson of Paraparauma.
1964 the car was sold to John Edgen but it had now been painted blue and the 100s engine had been up rated by the fitmennt of twin choke Weber carburettors. John Edgen raced the car, until it was involved in an accident on a public highway on 09th July 1967.
As a result of this accident the remains of the car were stripped out, the engine and front grille were retained but other components were sold to various enthusiasts in New Zealand. As much of the car that could be salvaged was and it was put into storage.
1981 Murray Wells bought the 100S and exported it into Australia. The car was still in a damaged state and Wells spent a decade gathering together all of the additional parts required to complete the resurrection of AHS 3601.
In 1991, well known Australian Healey specialist, Steve Pike was commissioned with the task of restoring the car. By 1992 this Austin Healey 100S was restored back to its full and magnificent condition. Visually and functionally the car was once again totally standard as it left the factory in 1955.
In 1999 the car was then purchased by Clas Arleskar of Tranemo, Sweden.
1n 2012 the car was purchased by Derek Mayor in the United Kingdom.
Interested in this car? We are here to help... Contact Us
Back to Sales Listings