Sold at Bill Rawles Classic Cars. Click here to view more cars for sale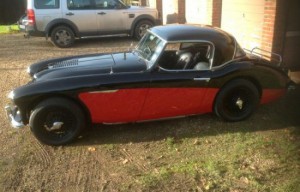 Austin Healey 100/6. This car is stunning in every aspect, It has been upgraded to Servo assisted disc front brakes, High torque starter, Spin on oil filter, up rated front anti roll bar, alloy fuel tank and brand new wheels and tyres.
The car comes with a complete wet weather kit including side screens and tonnoue cover. The hard top is included with the sale. In my opinion this is one of the best 100/6 Healeys I have seen for a long time. The car is on the button and ready for the summer season.
Please call or e-mail Bill Rawles for more information or to arrange a test drive.
Interested in this car? We are here to help... Contact Us
Back to Sales Listings