Austin Healey 100 M Spec BN2
Sold at Bill Rawles Classic Cars. Click here to view more cars for sale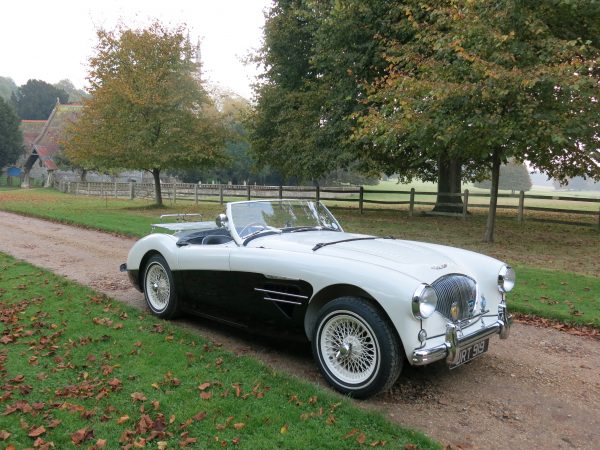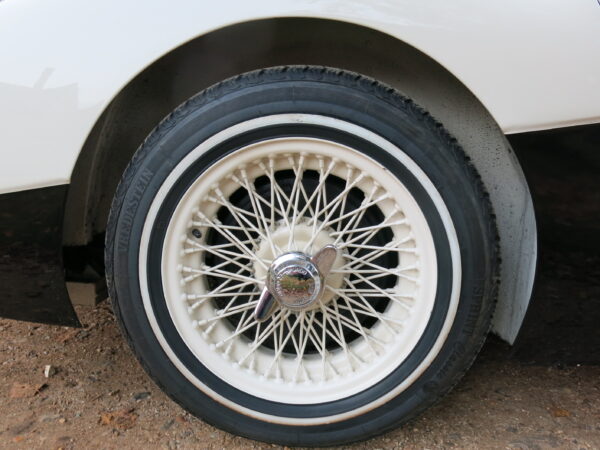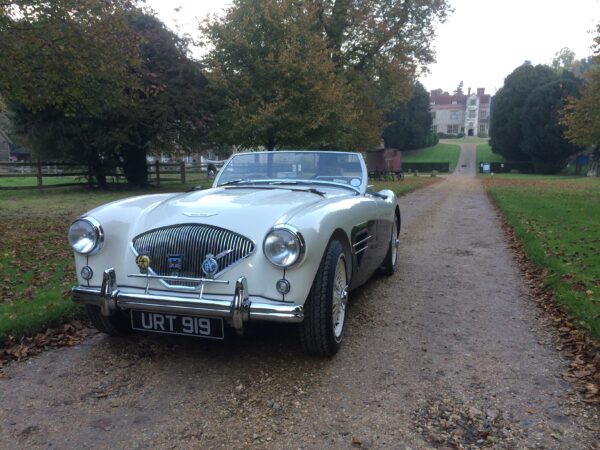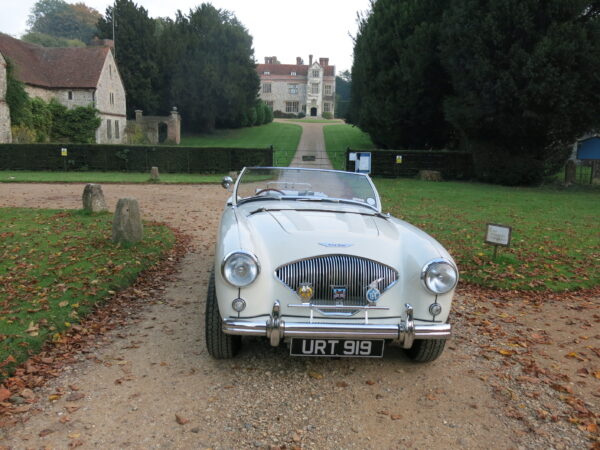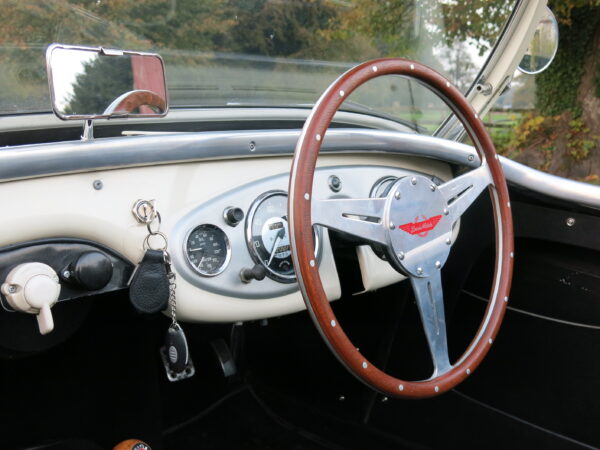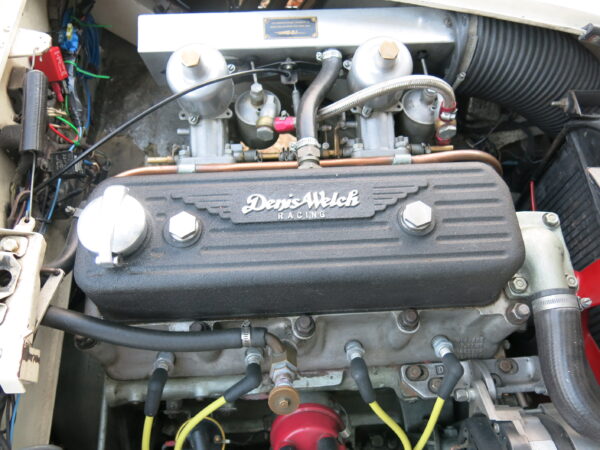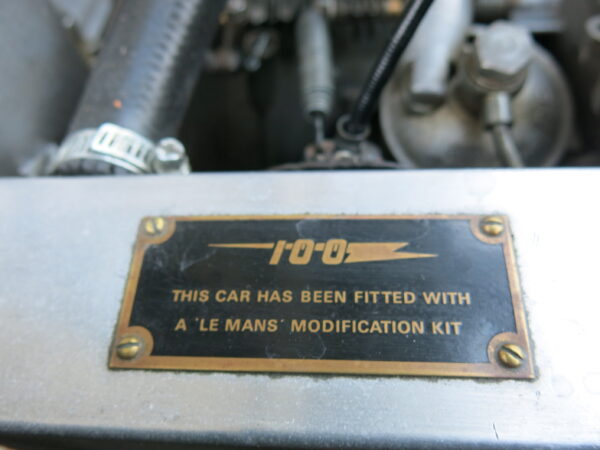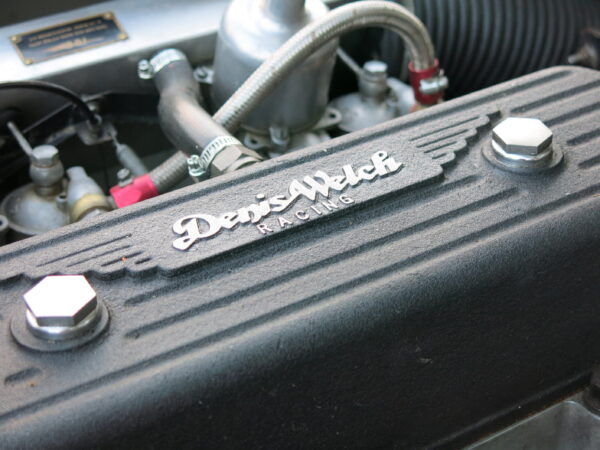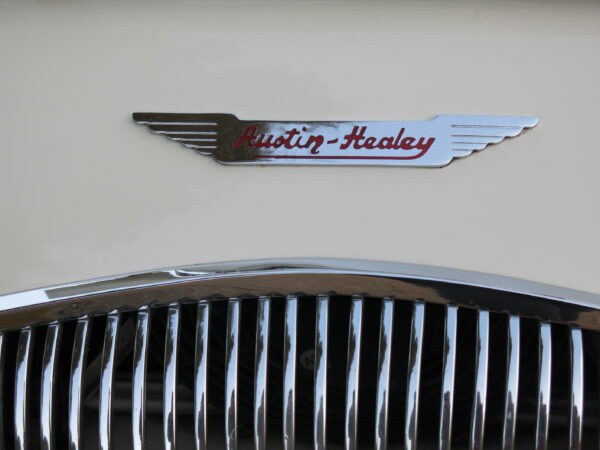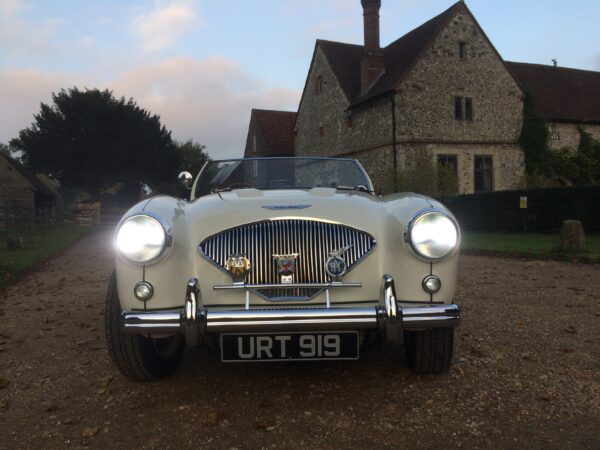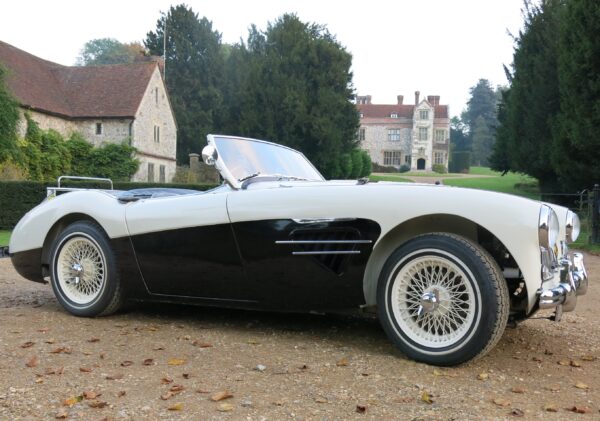 This Austin Healey 100 M Spec BN2 has been in its present ownership for the past 45 years and is a well known car around the Healey scene. It was built on 23rd April 1956 and delivered to a dealer in London. The registration number is recorded as being issued to the car in East Suffolk on 17th August 1956. The Heritage Certificate confirms that it was indeed supplied white over black with black interior, just as it still is today. The vehicle has been converted to M spec and has many Denis Welch modifications.
There are four large box files, crammed with history and documenting everything that has been done over the past 45 years. It is quite a story.
The car is presented well and ready for immediate use. It is fitted with a modern immobiliser for added protection against theft.
BN2's are extremely rare to find these days, so if you would like to view this Healey and arrange a test drive please contact Bill Rawles –
Tel – 01420 564343
Mob – 0776 3362470
Email – info@rawlesclassiccars.co.uk
Austin Healey 100
Car/Chassis Number – BN2/231861
Engine Number – 1B/231861
Body Number – 13391
Specification – RHD, Home Market
Colour –
Exterior – White and Black
Trim – Black
Hood (top) – Black
Date Built – 23rd April 1956
Date Despatched – Not Recorded
Destination (Dealer) – C.G. Norman (Victoria) Limited, London, SW 1
Key Number – FP. 650
Details of Equipment – Heater, Laminated Windscreen
Other information – The registration Mark URT 919, dated to 17th August 1956, was issued in East Suffolk
In December 1999 issue of Classic and Sports Car Magazine (page132) an article was written by Alastair Clements 
Healing Powers
"I don't feel middle-aged, but here I am talking about a 45 year old car, which I've owned for 30 years – I really don't know where the time has gone," reflects David Malden-Browne. His glorious 1956 Healey 100 may look pampered, but it has just returned from a 2500 mile European tour.
David's interest in cars came from his father, who owned a succession of interesting motors, including a rare Lamas-Graham: "My first car was an early 1950s Reliant with an Austin Seven engine. My pals and I used to go up to a pub at the top of a very steep hill and we had to open the doors and scoot it with our feet"
Interior designer David found the Healey when he was working in an architects' office in the City: "I used to sit and doodle the sports cars of my dreams – like most youngsters I lusted after Jags and Astons, but knew I could never afford one. Even the Healey 3000 was out because I was frightened by the horrendous cost of fuel, which was three and six – about 17 1/2 pence – per gallon! I didn't know much about the Healey 100; it was purely by chance that I saw an ad in the local paper. The chap told us he also had an E Type and when he pulled back the cover I thought it was the Jag. It was just too beautiful to be £200"
David started to restore the car in the late 1970s, but progress was halted due to insufficient funds. After 12 years' residence in his back garden, restoration began in 1989, during which it was returned to its original colour scheme. "I have my dear wife Sandy to thank for making a present of having it rebuilt"
He also took the opportunity for some modifications, fitting mostly Denis Welch parts. The engine sports a high-lift cam and smart crinkle finish rocker cover, while the racing exhaust emits a sporting bark.
The car wears original 100M carburettors, bought from Peter Healey, and a recently fitted 3.54:1 differential endows it with incredibly long legs: "It's now geared for a potential 130 mph but I wouldn't like to pick up the engine bits afterwards!" With its wider rubber and beefed-up suspension, the only item left on the list is a pair of front discs.
After the rebuild, he and Sandy took the Healey with them on holiday: "It broke down every single day, so we saw France from the back of a tow truck. The advantage was that I had RAC Euro cover, and when the car is being repaired, they pay for your hotel bill, so we virtually had a free holiday courtesy of the RAC!"
In August, David and his son Sam completed a three week tour of Europe, taking part in the first Euro-Healey meet in Luxembourg – organised by the Dutch Healey Club – recreating a trip taken with a friend in the summer of 1970, when they drove non-stop for two days to Rome.
At the time, an Italian friend was seeing the then Miss Rome, so David was often to be seen with her and a friend perched on the back of his Healey, driving around the Roman streets: "The Police got to know us and used to shout 'Mad Inglesi'. We got away with murder because they loved the car even then!"
David and Sam drove over the mountains through Geneva, then over the Alps into Italy: "We never got to Rome this time but we went to Milan. It was spectacular going over the Alps – the roads were fantastic". The Euro-Healey event included a trip to the Nurburgring and a run on the Nordschliefe, with participants also joining the Liege-Rome-Liege rally for a day, taking a blast around the Spa Francorchamps circuit into the bargain.
Sam's favourite memory of the Healey is an impromptu drag race against a Honda Fireblade super bike, undertaken on the way back to the campsite after Le Mans two year ago. David says: "It was like a scene out of a move. The car was snaking up the road and he only went past us 20 yards before the end of the track – it really dented his ego."
David uses his 100 as much as possible: "Within the last few weeks it has not only done the Tesco run, but was going for it around the Nurburgring and seems equally at home at both. It has an uncanny way of putting a grin on your face. Although it may not be the fastest car on the road, it does more 'smiles per hour' than any other car I've driven." The Healey has a similar effect on spectators: "From kids to elderly ladies, every single person seems to make a remark – and it's always a nice reaction."
Other classics have come and gone, but David will always keep the Healey: "I shall never sell it, mainly because it's not really mine any more. My 13 year old son knows it's his, he's fiercely loyal to it and I know it will be in safe hands with him. But I hope he takes me out to the pub when I'm a bit older and greyer!"
by Alastair Clements 1999
This article was written 17 years ago. Time moves on and life changes. We are very sad to report that David Malden-Browne passed away this year and his son Sam, is now 30 and lives in Australia. The family have made the decision that they would like to sell the car and for its adventures to carry on with a new owner. It is a beautiful car and it deserves to have some more good times and challenges…….
Interested in this car? We are here to help... Contact Us
Back to Sales Listings