An Exciting International Grid promised for Castle Combe
Sunday 06th October 2013 looks to be an exciting day for Austin Healey race enthusiasts, competitors and spectators alike, when they gather at Castle Combe Race Circuit for the return of The Bristol Forklifts Autumn Classics. This event is described as the atmosphere of the past, the excitement of today! And promises to feature awe inspiring machines from the Vintage Sports Car Club, as well as other historics, classics and a debut with Formula Juniors. Austin Healey drivers will assemble from all over the UK and Europe to compete in The Tim Rogers Memorial Trophy Invitation Race for Big Healeys (100/6 and 3000 models) and The Dave Hardy Memorial Trophy Race for the Austin Healey 100 model. Approximately 19 to 24 Austin Healeys and 44 drivers have signed on this year for this fairly rare occassion.
Joe Cox said "This is probably the finest grids of big Healey drivers we've seen for some time and certainly the fastest. We have some impressive names in the list and some impressive pairings. Thank you for entering and I hope you enjoy the day"
For more information take a look at The Castle Combe web site
Last year on the 06th October 2012, Castle Combe saw the first UK race solely for Big Healeys and the organisers managed to inspire and recruit an extremely impressive grid of twenty one cars, made up of over thirty one drivers, including Bill Rawles when he entered with Mark Potter as a shared drive in Marks Austin Healey 3000 MK I. It was such an amazing experience and a fabulous event that Bill Rawles and Mark Potter had no problem in deciding to support it again this year, entering as shared drivers again.
Last year we enjoyed uncharacteristically good weather for October, some people had entered into the spirit of the event dressed in classic attire which all contributed to the atmosphere of the day. It was a step back in time and it was difficult not to revel in the glamour of this golden era of motor racing. The whole day ran smoothly from the sporting attractions, with almost 4 hours of Historic and Classic Racing, the lunchtime parades, the car club displays and the trade stands, all we can hope for, is  for a repeat performance this year.
The Healey Driver International (a racing division of the Austin Healey Club UK) was created in 1990 to provide endurance racing throughout Europe for the Austin Healey 3000 & 100 models produced between 1952 & 1968. All cars must run to Healey Driver International regulations and prepared to FIA Spec, run on Dunlop CR65 race tyres or an earlier tread pattern of L section 15 x 5.00 or 5.50 sizes and of 240 compounds only. All cars must comply with the homologated weights without driver, helmet and gloves; 100-S 902 kgs; 100 987 kgs; 100/6 & 3000 1033 kgs.
The format, for both classes, is a 45 minute race, with a compulsory pit stop after 15 minutes and before 30 minutes elapses, the vehicle has to remain stationary for 1 full minute with the engine off, no fuelling is permitted and solo drivers must exit there Healey and run around the car  before resuming the race.
Class 1 – The Dave Hardy Memorial Trophy for 100 cars was presented to HDI by the Hardy Family in memory of their father who was heavily involved and highly regarded in the world of motorsport, this year it has been confirmed that 6-8 cars have entered this class, including Neil Hardy, David's son. It will be good to see them battling out for this trophy.
Class 2 – The Tim Rogers Memorial for 100/6 and 3000 Austin Healeys is promising a grid of 14 plus cars, for this one off memorial trophy, which will be the one to win. This class was created by Joe Cox, The Austin Healey Clubs vice president, when Tim Rogers lost his battle after a long illness shortly after the 2012 event. Tim owned, cherished, raced and rallied an Austin Healey 100-6, TON 792, a car with interest and value due to its history. TON 792 claims to fame started in 1958 when it was borrowed by BMC Competition Department to give Nancy Mitchell her first drive in The Alpine Rally and in 1961 The Cambridge University Racing Team entered the 100-6 into Le Mans. The car qualified as a reserve but it did not run.
Last Year Anders Schildt took The John Gott Memorial Trophy back to Sweden – Who will win this years prizes?
Jack Rawles is making a name for himself making race footage using a Go Pro Camera. Take a look at the  short clip Jack made for  Anders Schildt .
To catch up with all race reports, events calendars, results pages and picture galleries in support of Classic Austin Healey Racing, Sprinting and Hill Climbing activities in The UK and Internationally take a look at the Healey Sport web page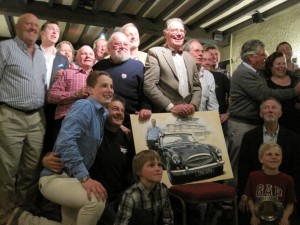 On Sat Evening, before the big race day Dave Smithies ( now allegedly an all time star following his victory in the Fordwater-Trophy race at Goodwood this year driving his ex-Tim Rogers Healey TON 792) has organised a pre-race social at The Cross Hands Hotel at Old Sodbury.
Joe Cox said "All are invited but no dullards, wingers or miseries are welcome only good looking and fun loving dudes and their partners, by huge demand no disco this year so will be able to hear ourselves think"
Finally if this years event can match last year we are all in for a treat – Please take a look out our collection of photos on Facebook. Thank you to The Thames Valley Austin Healey Club who are supporting The Castle Combe Historic & Classic Racing Event and thank you to Headline sponsors Julian Bronson and Bristol Forklifts ltd. Look out for our update after the weekend. Thank You